 Up Close and Personal with Gippy Grewal and Juggy Singh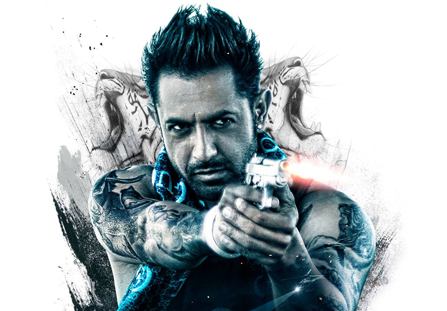 Singer-turned-actor, Gippy Grewal has released his latest movie, Faraar. A student, gangster, wanted criminal and a simpleton, these are some of shades Gippy grewal's double role will portray in Faraar. The movie also stars Juggy Singh and Kainaat Arora. Talking to DesiXpress, Gippy and Juggy spoke proudly about the new release.
I have to ask first. Who am I sitting with – Shinder or Ikham?

You're sitting with both of them (laughs). Faraar will be releasing on the 28th August and I play the role of two characters – Ekam and Shinda The movie is about a mistaken identity. Ekam goes from India to Los Angeles and is arrested after being mistaken for Shinda who is the most wanted criminal in the country. They have the same identity. He has to prove that he is innocent.


Which character was the most challenging to play?

I would have to say Ekam. To portray a much more innocent side is a lot more sophisticated. Shinda's character was tough too. I had to build the body for Shinda. Getting a six pack. I had to get fake tattoos – when we were removing them I'd end up screaming! But when I saw Shinda's pictures from the movie I was really impressed with the physical appearance.

Shooting in Los Angeles – how was the experience?

It was great! I learnt a lot whilst shooting there because we went to such a high level industry. We saw first hand how movies were actually made. It was really expensive shooting a movie around the city – everywhere we decided to shoot, we had to get different permits. From filming in our own home to filming in ambulances – we had to make sure we were properly licensed. For a Punjabi movie, the budget for this film was really big.


The writer of the movie, Jas Grewal – is he related to you?

(Laughs) No, he's not related to me. We have worked together before, on Jatt James Bond. But we wanted to create a different type of movie. When Jas told me about the concept of the movie, I was really excited and we went through with it.
Juggy Singh, you play the role of Kaptaan. I love the name! Your look suits your role. Was this for the movie only?

This was for my character. The beard was created generally for the movie. It took time to mould it and groom it – just the way we wanted it to look.
Tell me about your role. You're playing an activist?

It's a different type of role. But yeah, I play a psychotic villain. I believe it is the first type of villain that audiences will love within the Punjabi industry.


How did you find it?

I've filmed two movies prior to this, one with Gippy and I honestly believe that those two prepared me for this one. I learnt a lot from those roles.
What did you find most challenging about the role?

In terms of the experience, we all stayed together, so it was a very family atmosphere. The main thing was getting into character.