 Birmingham Host First 'Dragon Race'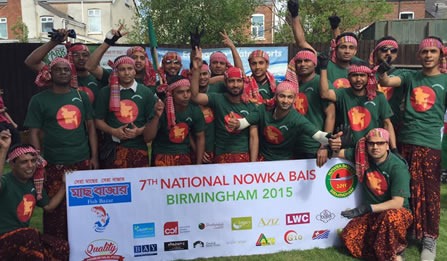 Birmingham hosted its first ever Nowka Bais (pronounced 'Nouka Baich') event with unprecedented success. Nowka Bais is the traditional sport of dragon boat style racing in rural villages of Bangladesh held after the Monsoon rains and reflects many of the customs of the country. Well, on the 9th August at Edgbaston Reservoir, you could have been in a rural Bangladeshi village. Guests were able to see the Nowka Bais with its crew members dressed up in traditional Bangladeshi attire and we even had a group of sailors. That was only part of the spectacle; there was live music, dance, food, fair ground attractions and even a rickshaw ride. The event attracted over 10,000 people from across the country. The organisers will be building on the events success and will host the Nowka Bais on annual basis. It is set to become one of the cities unique cultural offer.
We had 18 spirited teams singing and dancing from across the country. Three teams raced each other in a league format with three teams progressing to a grand finale. Oldham Dragons were last years, winners and they retained their title in a dramatic finish with three seconds between all three finalists. Second place, were Oldham Tigers and third place were Birmingham's very own X. Local MP, Shabana Mahmood was present to hand out the medals and she has pledged her support for next year's event.
    We also had a fun race, to raise funds for a charity between Cllr Waseem Zaffer MBE led a team of rowers with Sion Simon MEP, Cllr Sharon Thompson, Cllr Zaffer Ikbal and other dignitaries versus the organisers. The outcome of the race was obvious with Waseem's team trailing from the outset to finish in a 'respectable second place'. 
Amidst all the fun, there is a serious message of health and wellbeing. The aim is to get more people involved water sports. The Bangladeshi community have a natural affinity to water and many are unaware of the opportunities on offer from the Midlands Sailing Club. Community Connect Foundation (CCF) and Legacy WM will be hosting regular rowing sessions in the New Year leading up to the next Nowka Bais event. This is to ensure that people get fitter and Birmingham can become the coveted, Nowka Bais champions! Jan Kimber, from Midland Sailing Club in Birmingham, which is helping organise the event said to sail and join our Club."
CCF in partnership with Legacy WM, Midland Sailing Club, the Canal & River Trust and the principle sponsor, Mas Basar in association Quality Bites and other local businesses worked together to make the event a success.  The Nowka Bais is the brainchild of Aziz-ur Rahman, a well-known and respected businessman from Oxford. In 2007 the county of Oxfordshire celebrated its 1,000th anniversary and as part of its celebration a festival of the waterways was organised. One of the highlights and for many the most thrilling event of all was a race between two Bangladeshi canoes, or Nowka Bais, along the River Thames. Each canoe was forty feet long, painted bright red, white, yellow and green, with a 15 man crew also dressed in dazzling colours, paddling furiously to the beat of the drummer in the prow of the boat. The Nowka Bais was a great success and has since been held on annual basis in Oxford.
 Mr Rahman wanted to share the Nowka Bais experience with people across the country and two years ago it was held in Bedford. Birmingham hosted the 7th annual championship. Mr Rahman said "I am delighted with the success of the event, it was lovely to see so many people come and enjoy a taste of Bangladeshi culture and heritage. Birmingham's organising committee have done a fantastic job and I would like to thank them for their dedication and professionalism. I would like to thank all the teams for participating and congratulate Oldham Dragons for retaining the title in sensational finale by beating their rivals by a split second. I would like to extend my gratitude to the sponsors for their support. My plans are to host the next national Nowka Bais in London and I am sure it will be a great success".
Johur Uddin, Chief Executive of Community Connect Foundation was delighted with the outcome of the Nowka Bais and said "We are very proud to be the lead partner for this prestigious event.