 Service Launches in Nottingham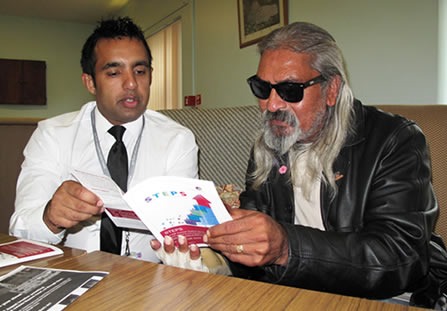 A new support service has launched in Nottingham to promote mental health awareness and wellbeing among the city's black, Asian and minority ethnic (BAME) communities.
The free service, called STEPS (Support Towards Empowering People Service), offers one-to-one and group support to people with mental health needs, and is open to individuals aged 18 years and older who are registered with a GP in Nottingham City. Its focus is on engaging people from the most prevalent BAME groups in the area, including the African, African-Caribbean, Asian, Eastern European, Refugee and Asylum Seeker communities.
By helping people to identify their needs and addressing them through personalised support plans, the programme is aimed at enabling greater independence. Working closely with local voluntary and statutory bodies, STEPS outreach workers can also refer customers to other appropriate health services in the area.
An event to mark the launch took place at the Hill View Community Centre in St Ann's and saw local healthcare workers gather with members of the city's BAME communities. As well as welcome speeches by STEPS coordinators and informal workshops, the event featured multilingual presentations about the service – and outreach workers were on hand throughout the day to offer further information.
STEPS is run by Metropolitan, one of the UK's leading providers of affordable housing and care and support services. The contract for the service was awarded earlier this year by NHS Nottingham City Clinical Commissioning Group (CCG), the body responsible for the healthcare of the city's 325,000 inhabitants.
The CCG commissioned the service in response to patient feedback which highlighted perceived gaps in the provision of culturally responsive community health services. According to the 2011 Census, BAME groups make up 35% of Nottingham's population.
Ann Gibbons, Executive Director of Care and Support at Metropolitan, said: "We are very happy to be working in partnership with the NHS in Nottingham. STEPS will focus on helping to increase access to mainstream services among the city's BAME communities – with the aim of improving mental health outcomes, and enabling greater personal wellbeing and independence.
Lucy Davidson, Assistant Director of Commissioning – Mental Health, at Nottingham City CCG, said: "We want to ensure that people can access services when they need them. Local people told us that they wanted a service that would really understand and respond to the specific needs of our local BAME community. The aim of the new service is to make it easier for local people to receive appropriate mental health services which really meet their needs."