 Increasing participation at the Birmingham Mela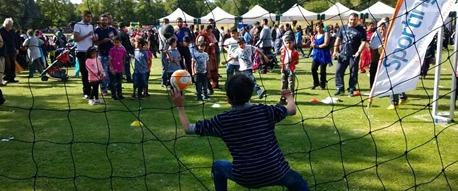 Sporting Equals will be out and about with their SportZone on Sunday 16th August to encourage more minority ethnic communities attending Birmingham's Mela, to take part in various sports.
Sporting Equals, in partnership with National Governing Bodies (NGBs) of sport will be setting up their fully interactive Sport Zone at Cannon Hill Park. With sports such as tennis, football, boxing, golf and table tennis on offer, the partnership is hoping to encourage large numbers of the Mela crowd to have a go.
Visitors to the Sport Zone will have the opportunity to express their barriers to participation and directly contribute ideas and thoughts on sports provision in Birmingham. With the launch of a nine-week consultation paper on the new strategy of sport by Sports Minister Tracey Crouch, Sporting Equals hopes to focus thoughts on how we increase participation from some of most inactive groups in society.
By targeting the South Asian community, Sporting Equals is reacting to 2014 Sport England Active People Survey figures which show lower sports participation rates amongst key segments of the Black and Minority Ethnic (BME) community in England. The research highlights the percentage of people who take part in moderate intensity sport for at least 30 minutes a week:
• In the West Midlands, BME females have the lowest sports participation rates – 26% compared to 28.2% for White British females
• The participation rate is lowest amongst Asian females with only 23.6% taking part in sport regularly.
• Black community has the lowest participation rate overall in the West Midlands with 31.5%, whereas those from a mixed heritage background show the highest levels of involvement in sport with 52.2% taking part once a week.
Arun Kang, Chief Executive, Sporting Equals, said: "Sports participation figures amongst South Asian females are particularly low. By bringing our Sports Zone to the south Asian community of Birmingham, we hope to help break down the barriers that are currently preventing South Asian women, in particular, from enjoying sport as part of their weekly routine."
Keely Fowler, Regional Tennis Participation Manager, said
"The Lawn Tennis Association (LTA)'s mission is to get more people playing tennis more often and in Birmingham we are encouraging local families to try fun, informal tennis activity together, in a familiar park setting. No experience is needed & all equipment is provided – you don't even need a proper tennis court to enjoy the benefits of playing tennis. A tennis coach will also be on hand in the Sporting Equals activity area with a mini tennis net, rackets and tennis balls."
Mark Kelly, Community Development Officer, England Golf added "We are glad to be part of Sporting Equals SportZone at the Birmingham Mela and see this as the first step in engaging the diverse communities of Birmingham to play Golf. The Mela has come at the right time to raise awareness of the fantastic facilities available in Birmingham."
If you are a community organisation working with minority ethnic communities in Birmingham and would like to know more about the sporting opportunities available in your area or you are a sports organisation wishing to build links with community groups, please contact Daniel Allen, Partnership Officer at Sporting Equals on 07775028671.