 BID Spring Cleans the Road!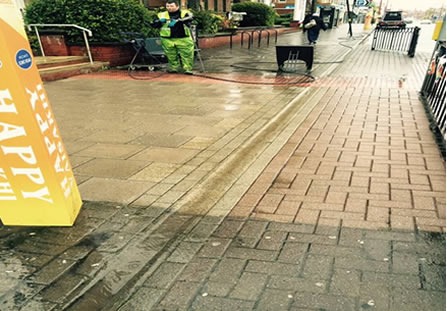 PICTURED: Section of the Soho Road in Handsworth outside the campus of South & City College Birmingham
After many years since the pavements of Soho Road in Handsworth were first slabbed, the Soho Road Business Improvement District (BID) has just completed this immense task of industrially cleaning them. Covering an approximate distance of 3.2 miles, nationally renowned industrial cleaners Ramora undertook one of the largest pavement washes in the country, and completed it on schedule. The local traders on Soho Hill, Soho Road, and Holyhead Road were supportive of such a long-awaited task, having voted it in when the BID was legally established last year.
Formed in April 2014, Soho Road BID is one of ten such legally constituted organisations currently operating in Birmingham that are led by local business representatives for the purpose of supporting businesses falling within designated areas in, inter alia, the economic improvement of those areas. Covering part of the busy A41 in North West Birmingham, there are well over 500 businesses that fall within the vibrant and ethnically diverse BID area that includes Soho Hill, Soho Road, and Holyhead Road. Operationally, the BID is managed on a day-to-day basis by Senior Management Director Craig Buckby, with support of Dipak Shelat, Business Development Director.
Chairman Dipak Patel was delighted with the result and stated," This was a major undertaking that the BID held as a key priority this year, and both traders and shoppers alike have noticed a major difference to the environment. We will not have to wait many years again for this to be carried out once more by the BID as the footfall of many thousands of people regularly visiting the area will undoubtedly show on the pavements of this most vibrant area of Birmingham".