 Organisation Will Now Be Called Asian Business Chamber of Commerce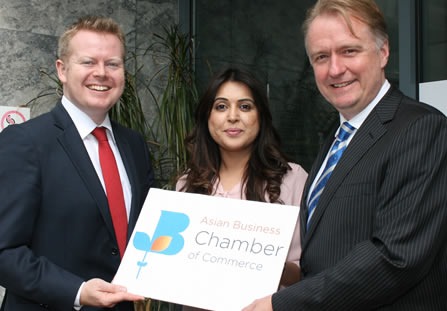 PICTURED: Paul Faulkner (GBCC chief executive), Anjum Khan (ABCC director) and Russell Jeans (GBCC business services director) with the new ABCC logo.
The Institute of Asian Businesses (IAB), founded in 1987 in the wake of the Handsworth riots, will from today be known as the Asian Business Chamber of Commerce (ABCC).
The move has been made to emphasise the close association the organisation has with Greater Birmingham Chambers of Commerce (GBCC), a relationship forged 28 years ago by the late Om Parmar, who became honorary president.
Paul Faulkner, chief executive of the GBCC, said: "The committee decided that the change of name was needed to emphasise the organisation's close association with the GBCC.
"They have been part of the Chamber for 28 years so it seemed a natural progression. The ABCC will still stick to the original principles of its formation to meet the needs and aspirations of member companies and to develop their full potential.
"It's vital that the Asian business community continues to make a big contribution to the economic development of the city and the region.
"The ABCC will continue to support the Indian, Pakistani and Bangladeshi communities, ensuring we have a good cross section of the Asian community."
Anjum Khan, the ABCC's director, said: "We now play an increasingly important role in the development of the local economy as the demographics of the region shift towards those with an ethnic background.
"Asian businesses are diverse and as such membership of the ABCC includes everything from solicitors and restaurants to training companies and wholesalers.
"We have a strong events diary, ranging from seminars, to networking to social events. Our annual dinner was a sell-out last year and remains one of the most popular and important events in the Midlands business calendar."