 Communities Come Together for Iftaar Meal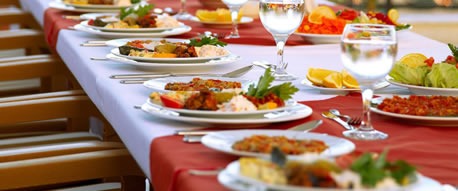 Ramadan is a time in which families and communities come together for iftaars and prayers in festive gatherings that demonstrate the rich and diverse traditions of Muslim societies and cultures. It is also a deeply spiritual time of reflection and renewal meant to increase thankfulness and consciousness of God's mercy. Muslims honour each day of Ramadan as a day of patient endurance through fasting, and each night as a night of gratitude through prayers.  It is a time to reinforce faith, compassion and forgiveness, and perseverance through adversity.  In this month of giving, Muslims around the globe reach out to assist those afflicted by conflict, hunger, poverty and disease.
To mark this auspicious month by going that extra mile, Highfield Hall Community Centre along with ArRahma Foundation, a community organisation operating in the Hall Green and surrounding areas of Birmingham, along with, organised a successful Community Iftaar Dinner on the 11th of July 2015 with their non-Muslim neighbours.
Chief Executive of Highfield Hall Maz Iqal was delighted to welcome honoured guests who hold different positions in society – from ministers and church leaders, imams, medical professionals, councillors, police officers to activists – and enjoying a good time with them all, including Deputy Lord Mayor of Birmingham – Councillor Shafique Shah.
The community shared with not just meals but a community feeling and continuous hopes of strong unity – a message that is ever more needed in a time where unfortunately Muslims are becoming increasingly marginalised and often viewed upon with suspicion and fear in Britain.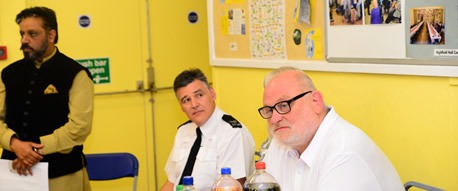 The event sent the message of hope; that we will not allow the media or anyone else to break our humanity and we will come to celebrate each other's unique ways of expressing British identities. It was a great opportunity in promoting neighbourliness, strengthening of community relations and for building bridges with colleagues and neighbours around who come from a variety of faiths and ethnicities. 
Maz Iqbal welcomed the honoured guests and program started with the Quran recitation by Azim Iqbal, Mufti Sarfraz Mohammed founding member of Fiqh Council Birmingham (FCB), Sharia advisor to NHS and HMC talked about Ramadan and fasting in Islam, Then all the local councillors and police officers along with Jessica Foster Revd from St Peters Church, Jahangir Malik Director of Islamic Relief UK, Mufti Talha Bukhari Birmingham Central Mosque, after all the speeches it was15 mins breakout for reflections and networking, then 9.26 Adhan and opening of fast followed by Salah prayer outside on green field observed by our non-Muslim guests and everyone enjoyed delicious Buffet Food sponsored by Imran's Restaurant Ladypool Road.
Maz Iqbal said " I would like to thank you our local councillors Barry Bowles, Kerry Jenkins and Sam Burden for attending the event and for their continuous support also big thank you to Sgt Denny Cooke and Sgt Haroon Chughtai from West Midlands Police to make a time from their busy schedule to be part of our event, thoroughly enjoyed our big event, We thank you to all the media especially Agha Ashrif from Awam News Paper, Abrar Mughal from Geo TV and daily Jang, Mateen Seharai from Sama TV for their continuous support and hope to see this year's honoured guests and new friends next year, God willing!