 Banging the Drum for Females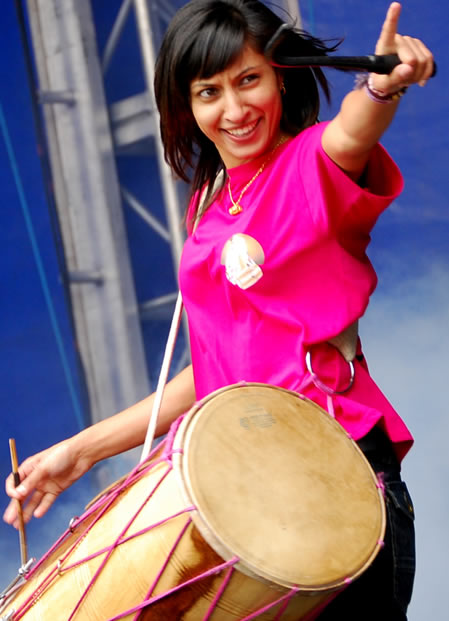 Introduce Yourself
I am the founder and manager of Eternal Taal. I am also the daughter of the Pioneer of Bhangra music in the UK, Balbir Singh of Bhujhangy Group with his elder brother Dalbir Singh in 1967. They introduced the fusion of Punjabi folk songs and dance music into the UK where it is known today as Bhangra music in Britain.  In 2001 the Guinness Book records placed their names in the book for the 'Pioneers of Bhangra music in the UK'. 
Growing up in the 90's, my father was a huge influence on my musical journey and they would always encourage me to come along to their own events and perform in the background.  This gave me a solid platform at the age of 14 in developing my stage skills and learning more musical aspects of Bhangra music through my father.  Throughout this time, I started to learn the true art of Bhangra music and played the keyboard, Dhol Drum and Dholki Drum.  Even though I loved performing on stage with my father, I wanted to establish her own group of drummers.
About Eternal Taal
Eternal Taal was established in 1999 and originated from West Bromwich, Birmingham.  Eternal Taal is an entertainments team consisting of professionally trained Bhangra Dhol Drummers, Dancers and Asian DJs.  We perform at many social, cultural and charity events across the UK and abroad. 
Eternal Taal is the first group in the UK to be taught by a female drummer, myself.  The group consists of over 50 students male and female and is continually growing.  Dhol playing is a very male dominated instrument but Parv wanted to establish a Female oriented group dressed in traditional Bhangra uniforms performing at high profile events.
Why did you decide to set up
Eternal Taal – Everlasting Beats, promote and encourage young talented people from the community to perform on stages beyond their imagination.  With 16 year's experience not only have I established a well-known group but full time as my career I am a qualified lecturer in Computer Science.  Teaching has always been my true passion and my hobby became my career. 
Our aim is to promote and perform Bhangra music to wider audiences, whether it's a small stage or a high profile stage.  Eternal Taal ensures our performances are of full energy, colour and vibrancy.
You've played Glastonbury a few times. Describe to me how it feels.
We had an organiser from Glastonbury who saw us perform live at Eden Project 2009.  He loved us since then and invited us to perform on the Theatre and Circus stage of Glastonbury Festival in 2009.  From there we moved to the Dance Village Gully stage and then the BBC Introducing stage.  Before each Festival, the team have been working hard, learning routines and formations. Performing to such a large audience, who loved joining in with our 'screw the light bulb' move is an experience the whole team will never forget.
What's the best gig you have played at?
Although every performance is always our best one, Yamla Pagla Deewana 2; a Bollywood blockbuster movie featuring Dhamendra, Sunny Deol and Bobbly Deol is one I can never forget.  Eternal Taal was the only team chosen from the UK to be part of one of the hit songs from this movie which took place in Leicester.  Being the only group in the UK that specialises in its own Bhangra Drummers, Dancers, Djs and singers ensured that they performed with upmost professionalism to promote and perform Bhangra to wider audiences.  The Yamla Pagla Deewana crew were astounded by our performance and attitude.
What's the best thing about your job?
The UK Bhangra industry is very male dominated and I wanted to show other females that we can do it to.  I have been performing professionally since 1999 and the best part of it is meeting new cultures and performing in different countries.  Travelling around UK and Europe promoting Bhangra music, we have experienced so much and we are still going strong.
Being a female only band, have you experienced any negativity because of this?
We do get judged when people see a large group of women, in the same uniform, holding a Dhol Drum.  However perceptions change as soon as people see us perform.  We are always smiling with pride showing the world our talent and spreading the love of music. We don't take anything to heart as we have worked so hard to build a foundation that we just focus on performing and promoting Bhangra to wider audiences, something I always wanted to do from a very young age.   
Our work has been recognised globally and in 2010 we were awarded the 'Contribution of Bhangra music in the UK' award from the House of Commons.