 International Tour Stopped in Dudley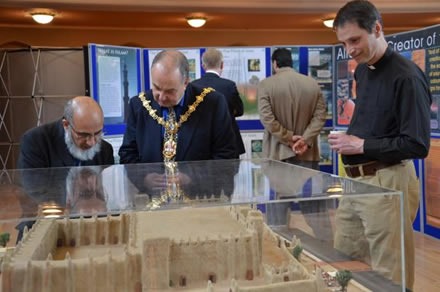 A community event which had been aimed to "dispel myths" about Muslims has been hailed a success.  
The Exhibition Islam event, held at Dudley Town Hall for two days and attended by over 1,000 people was opened as a free museum style exhibition.
Toured internationally, the event was designed to increase engagement and understanding among different religious communities and allow visitors to learn more about the Islamic faith.
Bishop of Dudley, Rt Revd Graham Usher said, "I'm grateful to the community at the Dudley Central Mosque for bringing Exhibition Islam to the town.
"I learnt a lot about Islam from visiting the exhibition and talking to members of the Muslim community."
He continued: "Gaining such an understanding of our neighbours' faith is vital in a world where there are aspects of Islam that want to distort their faith for evil ends, as well as those in our own community who want to caricature Islam in ways that are not honest."
Dudley Central Mosque chairman, Mohammed Aurangzeb added: "This event has brought the community together and I thank everyone for their support and for taking time to visit.
"Not only the 1,000 or so people who came to see it but also the many more they will tell in their homes, schools, places of work and places of worship.
"Overall I am pleased with the level of interest shown by local people which exceeded our expectations."
Mr Aurangzeb said the mosque would be planning more events in the coming months to continue "the positive dialogue and understanding between the different communities".