 British-Asian Singing Sensation Talks to DesiXpress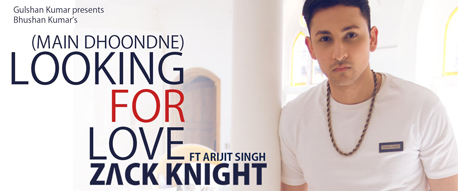 After scoring yet another number 1 on the Asian music charts, Zack Knight has a lot to celebrate. His latest song, Nakhre, has been an instant hit with audiences.
Tell me about Nakhre, what was the inspiration behind the track?
It kinda came about the same way the song "dehire" came about, I was never planning on being the actual singer on the song. For a few years I was making songs and putting "dummy vocals" down for the intended singers as I only really wanted to concentrate on western music at the time. But then I ended up being the artist on dheere after the song has been sent to T series and they offered me the opportunity to remix more of their catalogue, something I was very unsure about at the time but I trusted them because of their experience in the business.
Nakhre came about in a similar way, I was working with a talented band called Dewaan and one of the members happen to come over and asked me to work on a song for them, like build a rough sketch. I remember hearing it back and thinking this song would be perfect for them, not even considering myself in the equation. The main singer from the band came down and didn't feel it was the right direction for them and one of them suggested that I should stay on the song. And that's kinda how it came about, I ended up finishing the song and this was nearly 2 years ago from today. The song itself came quite organically,
I don't usually sit down and write lyrics, I have more of a "get up and go" type of attitude where I just sing whatever comes to me into the microphone. Nakhre kept coming out in the hook and at the time I was going through a situation where this girl I knew was running after this dude who was taking her for granted (the usual situation) and that's where I decided the hook would be about. Its not just a cliché but more so that she was giving me attitude and then chasing after all the wrong types of guys.

You've notched another number 1 with the track – do you write them yourself?
Yeah I don't usually give myself enough credit but I write and produce all my own music with some help on this song from my cousin to translate some of the words into Punjabi. I have had a successful single before but this one really mattered being my own composition. I was criticised initially for following the remix route but the release of Nakhre has proved that I can't be put in a box. The song did well on its own merit without any of the big names being on it and that for me was a personal achievement.
You've teamed up with music producer Khiza, how has he helped you as a musician?
I think Khiza being in the industry for as long as he has has given me that extra confidence to let the music speak for itself and at the same time push me above and beyond my limits. I was unaware that I can work so hard and put out so much music in such a short space of time until he pressured to stay on top of things. He also not only introduced me to the label in India but made sure that I was given the right publicity as an artist.
You have covered a number of songs – which is your favourite?
The next song I put out is an original but with a sweet indian sample in the hook, I cant say what it is but that has to be my favourite. Mohammed Irfan and Arijit Singh are def my fave singers right now!
You are a number of new homegrown talents to emerge on the Brit-Asian scene – how has the journey been so far?
My true supporters will know I got into the brit-asian scene many years ago under a different name. I was actually called Zee Kay and released a number of records where I toured the UK and Europe. I was also studying at the time and had to step out but noticed dozens of new artists appear at a time where there was literally no one who made rnb other than Jay Sean and Raghav. Hence why now although I appear to be a new artist, I am far from it, I've done this long enough to sustain it whilst keeping my feet firmly on the ground. 
You recently part of BBC Asian Network's New Music Showcase – how was the experience?
There were good and bad points, I usually take pride with everything I do but I could have done alot better on that show, some thing's just don't go to plan for whatever reason and considering we barely had a sound check that didn't help either. 
What does the future hold for you?
What I've realised being in the music industry on and off for the past 6/7 years is that I have no idea what the future holds. I can only plan towards it but with everything that happened in my life up till now, I could have never predicated this. To think I would be singing in hindi or Punjabi and be touring the globe when it was just yesterday that we put some music out. That just shows how quickly things can change overnight!