 On The Voice, What Viewers Should Expect And Finding Inspiration With Pitbull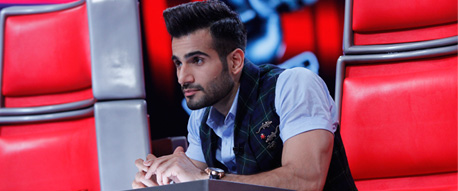 Talent show, The Voice, will be having its much anticipated launch in India this month. With judges Sunidhi Chauhan, Himesh Reshammiya, Mika Singh and Shaan and hosted by Karan Tacker, the show is expected to be a hit. After leaving the hit drama, Ek Hazaaron Mein Meri Behna Hai, he went on to become a contestant on Jhalak Dikhla Ja 7. He has now landed the role of hosting the first ever The Voice India. Sitting down with Anita Chumber, Karan spoke about the show, what viewers should expect and finding inspiration with Pitbull.
Congratulations on becoming the host of The Voice India, why did you choose to take up the role?
The voice has been a fantastic platform. I love the format of the blind auditions. In general I love being around artists and that's the reason I took it up because I will be amongst great talent. In regards to hosting, I always follow my heart when I'm doing things.

What do you expect from the show?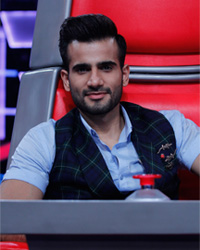 The show is really vibrant. The set is brilliant. The whole idea of pressing a button when you like a voice is really exiting – I don't think India has seen anything like this before. It will connect the audience. As a host I will be able to see the contestants before the coaches – its very differential. Here nothing materialistic matters. Their age, gender or their stories – none of it matters.
Have you worked with the judges, Sunidhi Chauhan, Himesh Reshammiya, Mika Singh and Shaan, before?
This is the first time I have worked with them, but I have met them before whilst hosting red carpet events. I know Mika from previous projects and he's got a kind spirit and a very big heart. This is the first time I have met Sunidhi. They are all absolutely brilliant in the fields that they are in and I just feel humbled to be amongst them.
Recently we read a story that you have taken inspiration from Pitbull, tell us about it?
I like Pitbull – he is a very chilled out guy. I just love the guy's energy and I like that about him. I am the kind of guy that is on his feet. So I was able to connect with the guy.
What personal touches will you bring to The Voice India?
My personal touches are me. I bring my heart to this show, or hosting in general. That's what audiences will get an essence of.
What should viewers expect?

There will be a range of great talent and contestants will be coming from a variety of backgrounds. You have great coaches who are all having a crazy time on set. The way they fight for a contestant is very cute. The contestants are left speechless because it's a very pivotal moment when you know people of that status are fighting for you. But the cheery on the top is that they get to see me!
How is it like on set?
Busy. On the set we have 105 contestants and the coaches are having a blast with them. Every time they pick someone – the way they end up bouncing is quite funny.
If you were a contestant on the show, which coach would you pick?
I would be grateful to be picked by any of the four!
Looking at the international series, which is your favourite?
I think season seven of the US version – that was pretty brilliant.
The Voice (India) began airing on June 6 on &TV