 Actor is Back to Tickle Your Tummies with His Upcoming Summer Flick
Produced by White Hill Production in association with Dalmora Entertainment, distributed in UK by B4U
The Punjabi film industry is set to break yet another record with a first of it's kind fantasy film titled"SARDAAR JI", starring the super hit jodi – Diljit Dosanjh & Neeru Bajwa (from Jatt & Juliet 1 & 2) who have paired up yet again to enthral your heart.
Sardaar Ji is a movie that tells the story about an orphaned boy Jaggi (Diljit Dosanjh) and his ability to communicate with the spirit world in the most comic situations.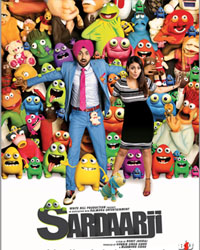 The film is set to make audiences from all age groups hysterical at watching Jaggi who builds relationships with harmless ghosts and in turn the ghost seek his advice in overcoming their problems.
The movie then takes you on a roller coaster ride that you'll never forget. Fasten your seatbelt as Jaggi (Diljit Dosanjh) is all set to fly to England from India to catch a mesmerizing lady ghost.
He helps to solve the dilemma of a couple who have unknowingly booked a possessed castle as their wedding venue. To add to the trouble, the wedding is to be attended by a special esteemed guest – the Royal Highness of England.
With no option to change the venue or the date and having tried every ghost hunter in the world, Jaggi from India is the couple's last ray of hope for a peaceful wedding. Will he able to convince the beautiful witch to leave the castle during the couple's marriage?
The songs of SardaarJi will make audiences tap their feet like never before. Directed by Rohit Jugraj (Of Jatt James Bond Fame) Sardaar Ji is an all-out family entertainer with power-packed performances from Diljit Dosanjh, Neeru Bajwa and Mandy Takhar. It is set to be a visual treat with its spectacular special effects, music and captivating story.
Synopsis
A first of its kind, fantasy film straight from Punjab,India, this story is of Jaggi (Diljit Dosanjh),a young sensitive orphan who is often bullied at school. Everything changes when he discovers that not only can he connect to human beings but also connect to beings from another realm. This ability lands him into comic circumstances with harmless ghosts, and he build a reputation as the go-to man to drive away a spirit.
Known for his expertise, he is called to England by a couple who discovers that their to be wedding venue is possessed by a witch. All wedding arrangements have been made. A very important guest of honour, her highness the Queen of England has agreed to attend the wedding and bless the couple. Venue or the date of the wedding can't be changed as the Queen's attendance has been publicly announced.
Jaggi thinks it'll be fairly easy to convince the witch, but little does he know the challenges that awaits him.