 At Cannes Film Festival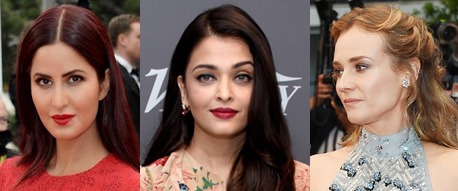 Cannes Film Festival took place in France recently and for those of you wondering, Cannes Film Festival is not only known for films but fashion too. Every year Bollywood and Hollywood celebrities step out in style on the red carpet to strut their stuff in front of the world's paparazzi.

As always the Bollywood celebs fashion were the talking point! As a result at The Asian Today we felt it was an ideal opportunity to do a best-dressed celebs feature this month – with our tips to looking as stunning so you can give it a go for Eid, Diwalli or special occasion such as, a wedding!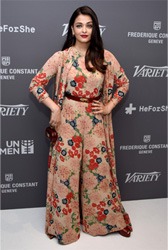 Aishwarya Rai Bachchan didn't let us down with her bespoke two-piece jumpsuit by Indian fashion extraordinaire Sabyasachi Mukherji. She must have a great team as she always on trend and on this occasion she wasn't afraid to step out in something different, the 2-piece floral dress. The signature brown waist belt with tiger silhouette as seen in Sabyasachi's latest collection featured in India fashion week.

We specially loved the fact Aishwarya Rai Bachchan decided to wear an Indian designer's collection whilst in France and demonstrate the versatility of modern Indian fashion. South Asian fashion definitely brings a unique fashion vision and spark to the western fashion world.

Plus we hope it shows you South Asian's in the UK the typical salwar kameez is not your only option.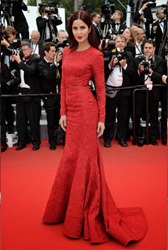 Katrina Kaif looked dazzling in a tailored Elie Saab gown. It was a great choice as Cannes Film Festival takes place in France yet you could argue it would of been nice to see Katrina Kaif in a fusion fashion spin of Elie Saab's garment. She made a great choice; she's looks stunning and proves you don't need to wear less to look drop dead gorgeous. On the other hand, the gown could have been an Indian blouse cut and tailored lengha.

To be on trend she should have draped a luxurious red chiffon over one side of her shoulder and added a tanned belt over the dupatta around her waist.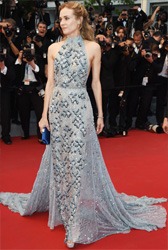 Diane Kruger, a western model and actress looked dazzling in a heavy beaded gown. She would make any Indian designer proud, as the elements in her dress are typical of South Asian fashion techniques just fused with a western cut.

On the back of the garment was matching beads and sequins, which made it subtle and allowed the focus to be on the front panel of the gorgeous dress. The trail is a must for red carpet fashion where for party fashion you could just create a hi-low panel beaded dress.

For runway touches just add timeless pieces such as a statement cocktail ring and bracelet on the other wrist. Don't forget to match a plain clutch bag. In this case the dress is too heavy with beads so to keep the focus on the dress just add a plain coloured clutch.

Who says you can't look like the celebs on the red carpet runway?