As part of the ongoing success of BIFF (Birmingham Indian Film Festival), fans and filmmakers were invited to a candid Q&A with cult director, Anurag Kashyap at Mockingbird Cinema on Wednesday.
Proclaimed the Martin Scorsese of India, Anurag Kashyap spoke with Endboard Production's documentarian, Sunandan Walia, to share his inspirations and influences that have shaped the indie director he is famous (or infamous) for today. He is an inimitable force and India's foremost filmmaker on the global festival circuit. His Netflix series, 'Sacred Games' was a global success and season 2 is already underway. Kashyap meanders through genres – from the provocative and edgy 'Dev. D' and 'Raman Raghav 2.0' to the two-part Godfather-esque rural gangland epic 'Gangs Of Wasseypur'. Not least the politically rife 'Gulaal', 'Black Friday', and the contentious love stories in 'Manmarziyaan' and 'Mukkabaaz'.
His film repertoire boasts a myriad of talent and his commitment to anarchic storytelling and unadulterated screenwriting has garnered notable acclaim. Winner of four Filmfare Awards, a National Film Award and IIFA Award for Best Dialogue (Gangs of Wasseypur 1), audiences were quick to realise Kashyap is no ordinary filmmaker on the Bollywood block.
With a record of watching 55 films in 10 days during film festival season, Kashyap is no foreigner to films outside of his own realm. Most notably, Martin Scorsese's. After some time spent in Mumbai, he had already discovered the Italian director's work while watching 'Cape Fear' but it wasn't until 'Taxi Driver', where Scorsese's technique would become the barometer for his own Bollywood inventions.
"[Cape Fear] was the only film that released theatrically while I was in university, but it was Taxi Driver that resonated with me. And I wanted to see more and more of him" he said. "At that time, there was no Internet but there was a bookshop called Lotusbook House in Bandra, Mumbai and we could not afford the books. But they used to stock a lot of film books and Faber & Faber used to come out with a series of 'Scorsese on Scorsese' and Shrader on Shrader."
"There was a screenplay on Taxi Driver. Lotusbook House used to keep screenplays on loads of books and [they] used to allow me to sit there and read so I just spent all my time sitting there and reading them. And I started my learning and printing screenplays originally came from Faber & Faber", said Kashyap, speaking with Walia about his formative western influences.
Clarifying any rumours that he reached out to Scorsese for feedback on one of his films, Kashyap said he met someone at a festival who found out he was a massive Scorsese fan.
"They happened to mention my movies to Scorsese and I got an official letter from there saying that he would like to see my films", he said. "My producer was travelling to New York and I gave my films and he saw the films and he wrote me a long letter – that letter I have put in my office and it's everywhere. That letter is my biggest ode – it hangs in my office, it hangs everywhere", said Kashyap.
Admitting it was a massive endorsement, he added, for his film 'Gangs of Wasseypur', Scorsese provided a quote on what he thought for the Blu-Ray release of the Bollywood drama.
"That was the best thing", he said. "When you meet him it's such a lesson because he's such a great filmmaker and he called me to be part of his [film] jury in Marrakech in Morocco – he especially asked for me and I spent 10 days with him".
"He's a filmmaker who's so there and he still finds time for other filmmakers and he watches their films and he writes to them and he interacts with them. And after that, every time I would make a film I would take it to him or send it to him. In fact in the end, Bombay Velvet was edited in his office by Thelma Shoonmaker – the only film she's ever edited outside of Scorsese", said Kashyap.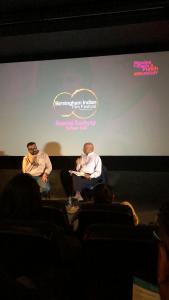 Growing up however, he was a 'closet writer', so took to writing short stories and draw comic books but received little encouragement along the way because his school magazine would reject his artistry for its 'dark' themes and the subjects were considered ludicrous for that of a 10-year-old. And would warrant a visit to the principal's office.
"It was very spirit breaking. It kind of made me question myself. I would write, but I would stop showing it to people […] the kind of stories I wrote, I didn't find them anywhere", he said.
With Mumbai as the Mecca for Indian filmmaking, Walia wondered which door Kashyap knocked on first to get started, to which he revealed he volunteered at Prithvi Theatre in Mumbai working as a Waiter.
"Everyone used to congregate at the theatre but they had a rule – where if you had no business there they would throw you out of the café, or if you're not performing or watching a play you can't hang around there. They had a whole law against loitering", he said.
The then ambitious youth revealed despite his certificates in education and achieving a degree, he insisted he would work for free at the café. His insistence with the café owner were both confounding and inspiring.
He told us the café owner asked, "Why do you want to be a waiter?" "Because I want to be at Prithvi", he said. He went on to wait tables at lunchtime and any remuneration would be in the form of 'leftover food'.
"Prithvi had great food – it was a good deal", he said. Kashyap said it was a place dedicated to theatre and people would go there to network for cinema and that's why the rule was there, to keep the place sacrosanct.
"At that time I wanted to get into theatre to learn things. I was too late to join any film course – I was not accepted in any films school, so I needed to find a way to learn things. I had theatre experience for six months from Delhi so I thought I might as well start with acting. I just wanted to be in there and figure out how to go about things. And it happened, it worked out".
Despite his degree in Microbiology, it was his artistic ambition that allowed his cinematic flair to take flight and become the virtuoso he is revered for today.
Kashyap has gone on to work with some of the industry's top talents from Irrfan Khan in 'The Lunchbox' and Abhishek Bachchan in 'Manmarziyaan'. Though some consider his approach to cinema provocative, Kashyap's take on the silver screen is precisely the wake up India needs. In an industry too mollycoddled in feeble fabrications, Kashyap is resolute and revved up for more cinematic controversy.