 10 Extra Months for Lying in Court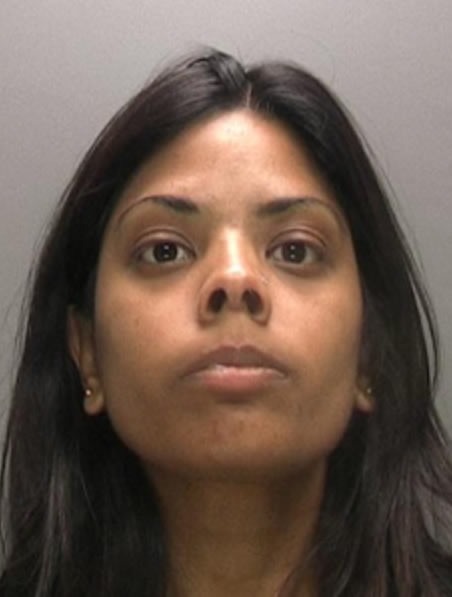 A beauty salon owner jailed for conning suppliers out of stock worth £1,000s and racking up huge rent arrears will spend an extra 10 months behind bars…for trying to trick a judge into believing she'd paid back her debtors.
West Midlands Police's Economic Crime Unit found Tina Patel − who set up Creative Salons in May 2013 from premises in Walsall's Park Place − tricked beauty wholesalers by sending emails purporting to be from bank officials confirming transfer payments.
On one occasion Patel forged a banker's draft – whitening out the original payee's details and inserting her own – before emailing a scan of the cheque to a Derbyshire-based firm to convince them to despatch her shipment.
And she repeatedly wrote cheques from closed bank accounts to cover monthly payments on a residential property she rented in Boulevard Walk, Walsall, amassing arrears of £7,500 before eventually being evicted.  
Patel admitted five counts of fraud at Wolverhampton Crown Court last May and was jailed for three-and-a-half years. She pleaded for leniency by producing a receipt from her landlady showing the bulk of her tenancy bill had been settled – but the judge demanded her story be probed by police when the property owner denied knowledge of receiving a payment or signing a receipt.
Fraud police turned to a calligraphy expert to compare the landlady's handwriting against the receipt – and when they found significant differences Patel eventually admitted penning the receipt herself.
The 38-year-old, formerly of Waterfront Way in Walsall, admitted perjury and at the same court, she was jailed for an additional 10 months.
Investigating officer Detective Constable Launa Rowley from the Economic Crime Unit, said: "Patel tried downplaying the scam throughout: she initially claimed the bounced cheques were innocent mistakes, not calculated attempts to steal large quantities of beauty products, and that she'd settled her rent arrears.
"However, I was in court alongside Patel's landlady when her defence team produced the receipt…she told me she'd not written it and that her signature must have been forged.
"A handwriting expert concluded that the receipt was a fake and Patel begrudgingly admitted writing it herself. She is a habitual liar and has rightly been punished for trying to pull the wool over the judge's eyes."
In May 2012, Patel placed a £283 order with a Derbyshire supplier under the trading name Nail & Beauty Lounge – paying on delivery using a cheque that later bounced – and six months later placed two large orders with the same firm under another business name.

She sent a doctored email, purporting to be from a bank official, suggesting a £2,500 bank transfer had been authorised – but payment was swiftly debited from the company's account when her cheque failed to clear.

Patel used the same tactics to con a Glasgow-based company out of products valued at £3,789, whilst a Leicester beauty wholesaler also lost £909 to Patel following an order placed in March 2012.