 Race to Find 10-Year-Old a Donor


When Dushyant was just two he gave his sister an extra five and a half years of life by donating his bone marrow. Now aged 10, he needs to find a matching bone marrow donor to save his own life. A young boy who donated bone marrow to his older sister when he was just two years old is now looking for a bone marrow donor himself.
Dushyant Mehta, 10, donated bone marrow to Devaanshi in 2007, and again in 2008, after she was diagnosed with bone marrow failure. The heroic donation gave Devaanshi an extra five and a half years of life, but she tragically died in June 2012 at the age of just 15. Dushyant needs a selfless stranger with a matching tissue type.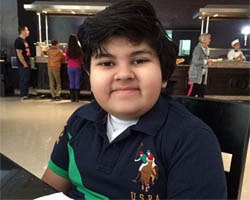 Now, shockingly, Dushyant's family have been told that he is also suffering from bone marrow failure and that he too will need a bone marrow transplant. There are no matches within the family and so, like two thirds of those in need of a transplant, he will rely on the blood cancer charity Anthony Nolan to find a selfless stranger with a matching tissue type. Dushyant is of Indian origin which will make it more difficult to find him a donor so his family are appealing for more people to join the Anthony Nolan bone marrow donor register.
His mother, Kalyani Mehta, 47, from Harrow, said: "We desperately need a donor for Dushyant and we now know there is not currently anyone on any of the world's registers who is a match for him. However, it is also really important to us to help other people who are looking for donors. "The only thing we have is hope and more donors on the register mean more hope for all patients in need of a transplant."
Devaanshi was diagnosed with a rare form of bone marrow failure when she was nine and her devastated family were told that she would need a bone marrow transplant. All three of her siblings – her two older sisters, and her young brother – were tested and Dushyant was found to be a match.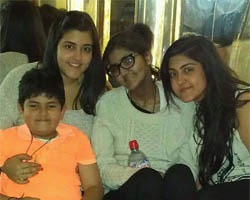 He was only two at the time but in April 2007 Dushyant donated bone marrow to Devaanshi in a bid to cure her. Despite the transplant, Devaanshi was left dependent on platelet and blood transfusions and she launched a campaign to encourage more people to become blood, organ and bone marrow donors.
Sadly, in 2010, Devaanshi's lungs collapsed and were left so badly damaged that she was told her illness was incurable. Despite her failing health, she continued to organise fundraising events and to inspire Asian people to become donors. She died at Great Ormond Street Hospital five years after her transplant. Horrifyingly, just two years later, in October 2014, Dushyant developed a series of colds that he could not shake off. He also became increasingly breathless. Recognising these symptoms as similar to those suffered by her daughter, Kalyani contacted specialists at Great Ormond Street who organised testing.
The results showed that Dushyant is suffering from a bone marrow failure syndrome similar to that which affected Devaanshi. Kalyani was immediately told that he would also need a bone marrow transplant and his doctors asked Anthony Nolan to search the world's registers of potential bone marrow donors for a match. Sadly, this search failed to find any possible matches so another search is now being conducted and Dushyant's parents are calling for more people to join the register in the hope of finding a match for their son, and for others like him.
They know that it will be more difficult to find a match for Dushyant because people from ethnic minority backgrounds are underrepresented on the registers. As a result, they are particularly keen that more people from Asian backgrounds sign up and want everyone to know that 90 per cent of donations are now made through an outpatient procedure similar to giving blood.
Kalyani said: "Signing up is about saving someone's life. It is that important and it is particularly vital to encourage people from ethnic minority backgrounds to sign up."