 Students Mesmerise Audience with Artistic Flair

Staff and students at Abbey College delighted audiences as they took centre stage to showcase their artistic talents in a Talent Show.
Members of the Student Council helped organise the highly anticipated event and students and teachers gathered in unison to support the performers.
There was a great variety of performances this year, including magic shows, break dancing, singing, poem recitals and other musical performances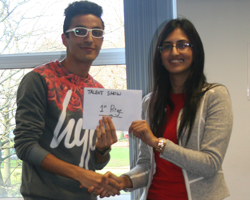 The winner of the show was awarded to Lower Sixth Student Jamie Daghaim with this two stunning performances. He firstly performed a fantastic solo on the piano and then followed with a beautiful recital of a poem he had written himself.
Other highlights of the show included Mai Duc Nguyen's incredible magic show, Amandip's and Kevin's break dancing and Luthfan Pradipto's fantastic performance on his electrical guitar.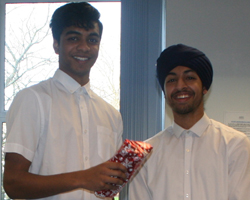 Among the acts was 17-year-old Amandip Singh Bhamra from Kingstanding. The sixth form student, who is studying A-levels in Chemistry, Biology and Physics, gave a contemporary breakdancing performance alongside fellow A-level student Kevin Vairavaraja, (18), from Solihull who is studying Chemistry, Biology, History and English Language. 
Not to be out done by the students, staff members also participated in the event. Head of Lower Sixth, Anthony Raybould gave a brilliant performance on his guitar and Teacher of Maths, Linda Manas helped get everyone in the Christmas spirit by playing Christmas songs on her recorder.
Stephen Robinson, Principal at Abbey College Birmingham said, "The annual celebration of our students' amazing artistic talents is very popular and a thoroughly enjoyable way to showcase their abilities.
"The standard this year has been extremely high and we are delighted to be able to celebrate the cosmopolitan nature of our college with such an impressive display. The show was a great success and we hope our audience was thoroughly entertained!