Parliament Event Marks Important Milestone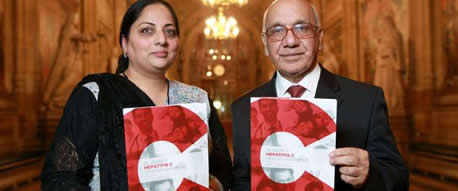 A report launched in Parliament by an alliance of MPs, healthcare professionals and organisations committed to combating the burden of hepatitis C has highlighted serious concerns over the state of the disease's management within the UK's South Asian community.1 Sentinel surveillance data, collected between 2009 and 2013, found the prevalence of hepatitis C in England's Asian population – which accounts for around four million people in the UK2,3– has been up to 2.3%.4 This compares to an estimated average of just 0.4% for the whole of England (data from 2005).4 The report warns of the serious health consequences that could potentially be faced as a result of this issue and calls for urgent action to address it. Priorities identified within the document include better understanding of cultural sensitivities and stigma around hepatitis C, and a need to work more effectively with religious organisations to promote testing and treatment in the community.
Chair of the report panel and MP for Ealing Southall, Virendra Sharma, commented: "The South Asian community is a vibrant and growing population in this country, yet it suffers from a prevalence of hepatitis C that is thought to be nearly five times higher than the general UK population. This is a disease that can lead to liver failure or cancer, yet many people in the South Asian community remain completely unaware they have it. We need to do more to understand the cultural reasons behind these statistics, and use this knowledge to better equip health services to identify and treat those in this community with hepatitis C."
Hepatitis C is a blood-borne virus that, if left untreated, can cause liver failure or cancer.5 While intravenous drug use remains a common route of infection,4 non-sterile medical treatment abroad and use of unsterile shaving tools are also thought to be significant causes of hepatitis C infection in this group.
South Asian officer for the Hepatitis C Trust and former hepatitis C sufferer, Shabana Begum, commented: "There is an urgent need to find a more effective way of dealing with hepatitis C in the UK's South Asian community. The stigma and a lack of awareness associated with this disease means that many people in this community will carry it for many years; not only does this increase the chance of spreading the infection but it dramatically raises the likelihood of those infected suffering serious liver damage. This report is a stark reminder that the issue of hepatitis C is simply too big to be ignored and that action at a local and national level is needed."