 ISIS Demands Money for Return of Hostages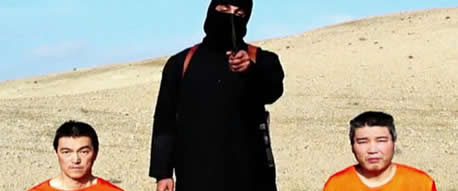 A video allegedly shows an Islamic State militant threatening to kill two Japanese hostages unless a ransom is paid, though the video has yet to be independently verified. The militant in the video accused Japan if sending aid to countries fighting Islamic State.

Prime Minster of Japan Shinzo Abe said the threat was unacceptable and pledged to save the hostages, he claimed their lives were a "top priority" and that Japan would not give in to terrorism. The country's foreign ministry are working to verify the video.

Mr Abe is currently in Jerusalem as part of a six-day tour of the Middle East, however he will reportedly cancel the rest of his trip and return to Japan to deal with the hostage situation.

In a press conference in Jerusalem, Mr Abe said he was "indignant" and felt "strong resentment" towards the threats, and demanded the immediate release of the hostages.

"Extremism and Islam are completely different things," he said.

Mr Abe also stated non-military support would continue to be sent to Middle Eastern countries. While in Cairo, Mr Abe promised $2.5bn in non-military assistance to the region, with $200m in non-military aid for countries fighting Islamic State. Japan relies on the Middle East for much of its crude oil imports.

He said that the world would suffer "immeasurable" damage if terrorism spread in the region.

The video displays a masked man with a knife threatening the hostages. The man said, in English, he will kill the two men unless a $200m (£130m) ransom is paid within 72 hours.

Speaking earlier to journalists, Japan's top government spokesman Yoshihide Suga said, "If true, the act of threat in exchange of people's lives is unforgivable and we feel strong indignation.

"We will make our utmost effort to win their release as soon as possible."

Yasuhide Nakayama, a deputy foreign minister, will fly to the Jordanian capital in an effort to tackle the crisis.