 'Islam Must Die' and Swastika Spray Painted onto University of Birmingham Wall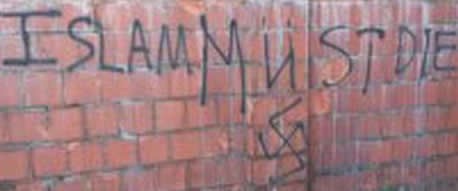 Anti-Semitic and Islamophobic graffiti was spray painted onto campus walls of the University of Birmingham. The offensive messages were sprayed in black paint on the red brick wall of the University of Birmingham, in Edgbaston, as reported by the student newspaper, The Tab Birmingham.

Police believe the incident may be linked to a similar incident where offensive graffiti was painted on Jalalabad Trust Mosque, less than a mile away from the campus in Selly Oak.

Police are investigating CCTV footage to identify the culprits and the graffiti has since been removed. West Midlands Police are urging witnesses to come forward with information.

Sergeant Pete Sandhu said, "Mindless hate of this kind has no place in 21st century Birmingham and work is underway to find the person responsible."

Second-year student Hannah Sharron wrote in an open letter to the vandals, "You will not force Jewish students off campus. You will not intimidate Muslim students. You will not disrespect the memories of every minority persecuted under the Nazi regime, for whom any adjective – vile, disgusting, horrible – seems too mild."

Fiyaz Mughal from organisation Tell MAMA UK (Measuring Anti-Muslim Attacks) said of the graffiti, "This is appalling, where someone has the guts and chutzpah to place such a statement inferring that Islam must die on a university campus that has lots of Muslim students.

"If that is the case, one can easily infer that this person wants Muslims to be killed and was trying to put themselves outside of hate speech."