 Zubair Steps Closer to F1 Dream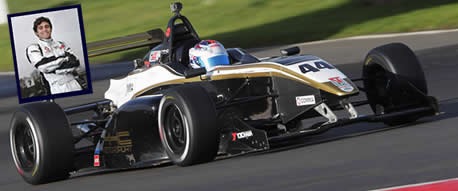 Zubair Hoque is one lap closer to achieving his Formula One ambitions after finishing as the 'top rookie' in the standings of the 2014 BRDC Formula 4 Winter Series Championship.
The Hale, Cheshire, based teenager, who drove for team HHC Motorsport, crowned this year's debut in single-seater racing by closing an impressive fifth overall in the current F4 standings, despite competing against vastly more experienced drivers.
He is the only British Asian in single-seat formula racing.
The BRDC (British Racing Drivers Club) F4 Winter Series was hotly contested, attracting drivers from as far away as Brazil and Mexico over the Snetterton and Brands Hatch circuits and it served as a 'shakedown' in preparation for the 2015 F4 Championship.
Zubair had his first outing in the one–make F4 category – and made an instant impression.
"He showed flashes of promise on his first car racing weekend at Snetterton," says HHC's Commercial Director Charlie Kemp," and put in an excellent performance despite treacherous track conditions.
"Zubair has since shown consistent and steady improvement over the remainder of the Series and I expect great things for him in the 2015 F4 Championship which launches at Oulton Park in April of next year."
No stranger to track success, Zubair,18, has clocked up an impressive tally of finishing positions and lap records over a 10 year, progressive career in kart racing, before making his move into F4 in October. (following a one year break for academic study and exams)
Starting at the age of 8 at the Daytona circuit in Manchester he was fast tracked to junior race schools and then made a series of progressive team moves, ending with the Ricky Flynn Motorsport team – one of Europe's top karting teams and the most successful in the KF2 category in Britain.
In KF2 he competed with some of the best drivers in the world, aged 14 and upwards.
He achieved three podium finishes in the KF2 MSA British Championship in 2012 and top 10 finishes in international events across 13 different countries.
After signing with HHC Motorsport and making the move into single seater racing a few months ago, Zubair was recently invited to attend the iZone Driver Performance facility at the Silverstone Grand Prix circuit.
It's the UK's leading driver training facility, developed by triple World Touring Car champion, Andy Priaulx.
"The timing was perfect because I was able to go along in advance of my race at Brands Hatch and get to spend some time on their state of the art simulator, which proved to be extremely useful," said Zubair.
"Although Brands Hatch Indy is a short circuit it features some tricky corners and this amazing piece of equipment helped me to familiarise myself with the layout of the track."
Looking towards his first full season in F4, he adds:" It will be an exciting, but challenging year ahead and my key focus will be on getting to grips with the set- up of the car in readiness for the early stages.
"There is a lot to learn in terms of the finely tuned technology of the car – aerodynamics, gears and so on – and there will be additional physical demands too, so another emphasis will be on making sure I am race fit to compete at a whole new level in 2015."