 Vigil's Across UK Show Solidarity with Pakistan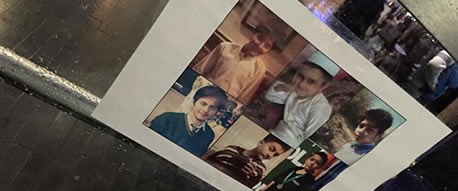 72 hours after the heartbreaking scenes unfolded in the Pakistani city of Peshawar, people from different cities across the UK gathered to pay tribute. Candlelight vigils in Birmingham, London and Bradford amongst other cities were planned in conjunction with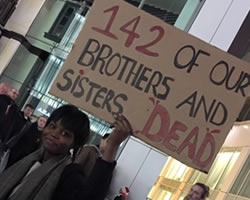 those that were happening across the world.
Seven Taliban terrorists wearing bomb vests cut through wire fences to break into the school shooting dead 132 children and nine  teachers at an Army Public School in Peshawar this week.
In Birmingham, over 100 people gathered by the city's iconic Bull to light candles and direct their anger towards those responsible for  the heinous attacks.
Talking to The Asian Today, organiser of the vigil, Zakir Gul, 18, an Oxford University student said enough was enough. "It is not about being Pakistani or about being Muslim. It is about showing solidarity.
We are mirroring the vigil of London and those that have taken place around the world. The Pakistani community in Birmingham is huge; we wanted to show our support. We wanted to show how angry we are, with the Pakistani authorities, with the police and with the Taliban.
We are angry at the corrupt government of Pakistan who are allowing this to happen and our own government who is allowing this to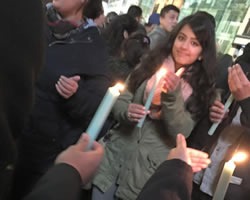 happen. It is barbaric and inhumane at what the Taliban have done.
Since 2003, 90,751 Pakistani civilians have been killed. Children of Pakistan are dying everywhere, in the schools by the Taliban, by the government of Pakistan and by the militants. It is a war zone out there. It is disgusting."
Vigils were also held at Trafalgar Square, which was attended by thousands of individuals. Organiser Ahrar Abbasi, 21, said, "We know that Pakistan is in a very sad state of affairs at the moment but it's the first time that a bunch of people – monsters – walked into a school and without any second thought killed children. We share the same feelings of any other person who watched this. It makes every Pakistani angry."
A book of condolences has also been opened at the Pakistan High Commission in London until December 19.