 Military Target Terrorist Spots in Fresh Attacks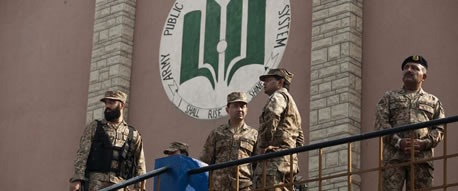 The Pakistani army have hit back at the Pakistani Taliban, three days after the deadly attack which resulted in 148 people being killed, mostly children.  The military retaliated by killing 57 militants in major airstrikes in the Khyber tribal region where the suicide bombers are reportedly being trained.
The army launched 20 airstrikes on several Taliban hideouts in Tirah valley area of Khyber tribal region which is adjacent to Peshawar and killed 57 militants, an army spokesman said.

The military said that the ongoing operation Khyber-1 in the district is being reviewed.

Pakistan had pledged to announce a "national plan" to tackle terrorism within a week with Prime Minister Nawaz Sharif saying "this entire region" should be cleaned of terrorism.

Taliban spokesman claimed that its 6 suicide bombers attacked the army school, saying it was a revenge for the military's operation against militants in the North Waziristan tribal area close to Peshawar.

The security forces have killed hundreds of militants in the region but they are still far from defeated.

The militants hide in the mountainous porous border and frequently cross towards Afghanistan to avoid attacks.
The school's sprawling grounds were all but deserted on Wednesday, with a few snipers manning the roofs of its pink brick-and-stone buildings. Army vehicles and soldiers wearing face masks and carrying rifles were deployed by the entrance.
A tour of the school revealed a place shattered by hours of fighting, its floor slick with blood and walls pockmarked with bullet holes. Classrooms were filled with abandoned school bags, mobile phones and broken chairs.

One wall was smashed where a suicide bomber blew himself up, blood splattered across it. His body parts were piled nearby on a white cloth. The air was thick with the smell of explosives and flesh.

A day after the attack, Peshawar was subdued as people digested the tragedy. More details of the well-organised attack emerged as witnesses came forward with accounts.

"The attackers came around 10:30am on a pick-up van," said Issam Uddin, a 25-year-old school bus driver.

"They drove it around the back of the school and set it on fire to block the way. Then they went to Gate 1 and killed a soldier, a gatekeeper and a gardener. Firing began and the first suicide attack took place."

Sharif has announced three days of mourning, but people's anxiety focused on what the authorities can do to protect them.
In a show of unity with a government he once tried to oust, opposition politician Imran Khan said he was calling off his months-long protest movement against Sharif – a welcome relief for a prime minister already beset by growing domestic problems.