 The 'Sugar and Spice' Queen's Incredible Journey

Fresh off The Apprentice, Peterborough-born Nurun Ahmed spoke to The Asian Today about her journey before entering the boardroom. The business woman certainly has a hectic lifestyle as a marketing officer, fashion retailer and full time mother and carer. It's a wonder how she gets it all done! Nurun reveals her motivation in life, why it's ok to be the nice person and personal struggles that she overcame to make it to the top.
What made you apply for The Apprentice?
For the past ten years I have been an avid fan of the show and it was always my dream to go on and display my entrepreneurial flair. From a very young age I have always been business minded and I aspired to be like some of the previous candidates. Once I started my businesses I decided it was the right time to go for it. Also since the show was in its tenth year there was a rumour that the series might end, so it was now or never.
Do you have a favourite moment from the show?
That has to be Sarah's idea of selling Lemons, I will never forget that! To this day if ever I'm at a restaurant and a waiter comes up to me and asks 'would you like a lemon with that?' I have to burst out laughing. That will stick with me for life!
What have you taken away from this experience?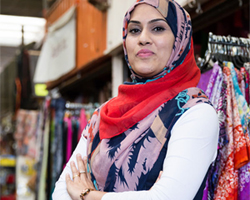 Being on the show was an invaluable experience and it will stay with me for life, I was amazed to be among the 20 chosen from over 80,000 applicants. The whole process is very rigid and quite callous at times, it's like being in a pressure cooker! I think I have learnt different skills from many strong candidates who are all talented in their own unique way. Some are quite abrasive and some are quite comical for example. What I have taken from Lord Sugar however is to focus on one thing and to do it really well, so I have fully concentrated on one of my businesses which is Scarfs Inc, where I sell scarves and accessories. Then there's the new business which I would have propositioned to Lord Sugar which was Nurun Asian Spice, Bespoke Wedding Planning Services.
Do you feel you have encouraged other Asian women to embrace their entrepreneurial spirit?
Absolutely, one of my main intentions was to show that culture or religion should never hold you back from being a career or business woman. I am both a mother and carer and it has never stopped me. I want to encourage women from all backgrounds, no matter what their personal circumstances, to believe in themselves. People think you need to have a scholarship or be a rocket scientist to succeed in business which isn't true, you don't even need the best education; all you need is drive, determination and a plan. Just utilise all of your resources and you can succeed.
Has your background as an Asian woman has ever affected you in business?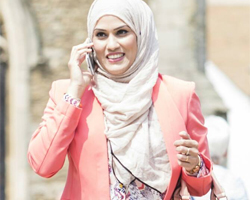 In business no, there are so many talented Asian women out there who are making waves in the industry so I don't think our background should affect us. We as Asian women have duties to our family for instance whether as a mother, daughter or wife, that's a cultural trait we have that we cannot neglect. Asian women are very level headed, we can juggle all of these duties and wear these different hats (or scarves in my case!) On the show however, as a Muslim there were certain things I could not get involved in such as having a drink with the other contestants. It affected my experience but not my performance.
I tried to maintain good morals and virtues on the show by making sure I was a nice person, I do believe that I think with my heart more than my head. I don't think anyone so far has ever taken advantage of the nice side of me, on the You're Fired show Jo Malone praised my personality and said I was someone she would love to work with because that's the kind of person she is in business too. Everyone has their own leadership style, Karen Brady is both approachable and personable in her own way, but also very straight talking. So you need a balance of being astute and personable as well.
When did you first become interested in business?
From the age of 12 I was always thinking ahead of the time by coming up with ways to improve certain businesses. For example when the Subway franchise first came to the UK, I suggested to my friends that we should have a halal selection in their menu. They said it would never happen and 6 years later, halal selections were introduced. Same with Nandos, I actually phoned them to suggest the idea of halal food which they rejected, and again years down the line they actually introduced halal food. So it's all about thinking ahead in terms of business ideas.
Unfortunately I have had adversities in life, at one point I was practically poverty stricken and was a victim of domestic violence. I suffered emotionally, physically and financially, my self-esteem and confidence were completely stripped away. However I left that marriage and rebuilt my life, I remarried and now have a very supportive husband who helped me turn my dreams into a reality. I feel the problems I had to deal with set me back about 10 years which is why I am ploughing forward to do everything now. There is a Culture Couture fashion show in London where I will be a guest speaker on the issue of Domestic Violence.
How do you manage such a busy lifestyle?
I am one of those people who likse to make use of unproductive time. Even if I am walking to work for example, in that time I will make an appointment for my father, check my emails or phone an important contact. I will multitask with all of my important jobs, you have to be productive, efficient and set challenges for yourself. You won't believe this but I get into bed well before 11:00pm! One thing I cannot give up on is my sleep which I love. Most people say you maximise yourself the most in the morning so my next challenge is to wake up earlier to get more done.
What is the next step for you?
I am concentrating on my next business which is the Bespoke Wedding Planning Services, I have also been in contact with Jo Malone for possible future business. There have been a few projects offered to me and I have been taking my time to see which ones are best, I am open to any opportunities coming my way. My heart goes out to women trapped in abusive relationships so I would also love to make a difference to vulnerable women out there in the future. Whatever I do next is going to be big, Lord Sugar said I am not ready to make the transition from small business to big business, so I am going to set that challenge for myself to make that transition.
You have to defy the naysayers in life, don't let people say you can't do it, show that you can do it! If you are learning from your mistakes and failures you are progressing. Some are destined for success if they were born into wealth for instance, but for others such as myself success is only determined by drive and determination. I don't call myself an entrepreneur like Jo Malone or Sir Richard Branson, I am just an ordinary woman on an incredible journey. So watch this space!
To find out more about the Culture Couture show and issues of domestic abuse visit nour-dv.org.uk/fashion