 £1 Million Car Ringing Scam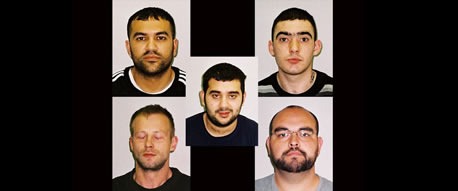 A gang of car thieves have been jailed for 20 years over a £1 million car ringing scam where high value vehicles and parts were stolen.
Approximately 39 vehicles were stolen to order whilst hi-tech equipment was used to evade security measures.
It was revealed in Birmingham Crown Court that the stolen cars were worth £500,000 and that the overall economic loss was between £750,000 and £1 million.
Farraqh Hadiat, 30, of Acocks Green, Mohammed Shakeel, 25, of Hall Green, Jangeer Khan, 31, of Dothill, and John Allen, 26, of Spoltway, both Telford, all previously admitted conspiracy to steal.
Hadiat was sentenced to two years and Shakeel to 18 months. Khan, who had also admitted being involved in the supply of cannabis, was sentenced to four years and two months. Allen, who also admitted supplying cannabis, received to two years and four months.
Adnan Khan, 22, who had pleaded guilty to conspiracy to handle and being concerned in the supply of class A drugs, was jailed for six years.
Peter Dutton, 33, who had admitted handling stolen goods was sentenced to 18 months. Philip Vernon, 30, pleaded guilty to the same charge and was sentenced to two years. All three men hailed from Telford.
The high quality vehicles were stolen from all over the country, most of them BMWs, advanced methods were also used during their exploits including electronic device operated to by pass security systems.
The vehicles were then taken to locations such as Aston, Birmingham and Shropshire. Parts of the vehicles were sold for a "substantial profit".
The gang were kept under surveillance since September last year by police, raids and arrests were then made at the assailant's homes.
Presiding over the case, Judge Drew said, "This was a well run operation that was carried out in a professional and business-like way."
He continued that the plan had been "hatched" by Jangeer Khan, Hadiat and Shakeel when they were serving sentences at Sudbury prison and began almost immediately after Khan was released.