 The Play Explores Challenging Old Concrete Traditions and Accepting New Customs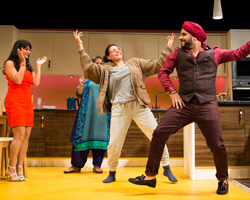 A delightful little comedy that is well-preformed, well-written and well-acted. With a very relatable cast, script and with a reflection on the south-Asian culture, Happy Birthday Sunita shines a light on cultural connotations that have been long associated with the community.
The Johal family invites you to a surprise birthday party for Sunita. Mum's been cooking all day, and the family has just about made it on time. Everything is set, but Sunita is nowhere to be seen. As the curries simmer and rotis are hot off the cooker, years of family drama bubbling under the surface start to boil over.
Today, four decades after arriving in this country, things are set to change. With traditional customs being challenged, such as the use of olive oil rather than butter, the family start to adapt to new circumstances. Buried secrets start to be unveiled, hidden skeletons and demons begin to surface as the family start to contend with 40 years worth of secrets.
Even though the play is a reminder of the battle the Asian community is fighting against old concrete traditions – the play centres on accepting new customs.