 Campaign Signs Over 1,000 to Stem Cell Register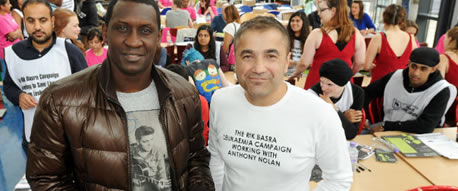 A man from Leicester has succeeded in getting 1,000 people to sign up for the national stem cell donor register.
Working alongside footballer Emile Heskey, who won 62 England caps and played 154 times for Leicester City, the Rik Basra Leukaemia Campaign eventually got a record number of people aged 16 to 30 to join the Anthony Nolan register.
The 1,000th person to sign up was psychology student John Munotengwa, who said: "It's a really good cause and I'm delighted they have hit the target."
The campaign was the latest initiative by Leicestershire police officer and leukaemia survivor Rik Basra and De Montfort University's Square Mile programme. Eight sign-up points were open across the city and in Loughborough.
Rik said: "Leicester is now a life-saving city. This is showing just what can be achieve if we all come together.
"We've got fantastic partners in the De Montfort University Square Mile team, we've had amazing volunteers that have come from previous events and people who have come off the streets to help on the day.
"I would like to say a big thank you to all those who came down to support us, particularly Emile Heskey, who travelled a considerable distance to be here.
Emile Heskey said: "It's fantastic to see so many people signing up.
"I met Rik at an event in Nottingham when he gave a speech about his battle with leukaemia and it touched me. I wanted to do anything I could to help. When he asked me to turn up at this event and just be here, how could I say no?"
Simon Cole, Chief Constable of Leicestershire, said: "What's inspiring is that Rik has turned the worst thing that's ever happened to him into something that's amazingly positive for other people and communities and he's done it in a way that has engaged people because everybody when they hear his story says it's outrageous there aren't more people on the stem cell register."
Suleman Nagdi, from the Federation of Muslim Organisations, said: "There's no greater gift you can give than to join the register and be a match for someone. You could be the person who saves someone's life."
At De Montfort's campus centre, Duncan Ainsworth, a forensic computing student, said: "I was in the area and it seemed like a good thing to do."
Nik Hillizani, a pharmacy quality by design student, said: "Everybody knows someone who has been affected by cancer and this is advancing the fight against it."
Siobhan Doyle, a media communications student, said: "I like the idea of donating and helping someone."
Former De Montfort student Matthew Sturgeon, who is now head of trading at a food company, was the 100th person to sign up.
He said: "I have worked with university volunteers before and I came down at the open day and spoke to the Square Mile team and they said they were doing this big push, so I decided to help out.
It's a good cause."
Rik's life was saved when he received a transplant from an anonymous donor through Anthony Nolan in 2011.
He, his family and a team of volunteers have campaigned since to recruit donors to the register.