 Counter Demonstration Also Planned

The English Defence League is set to demonstrate in Birmingham's city centre on October 11 following a similarly controversial demonstration last summer which brought chaos to the city's streets in violent outbreaks by the event's participants.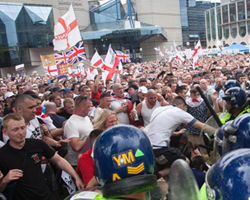 The far-right group's demonstration on July 20 of last year saw 2,000 supporters of EDL pour into Birmingham city centre, instigating a counter demonstration in response by the Unite Against Fascism group.
In a statement via social media, the group announced that their return to Birmingham streets next week follows the Trojan Horse allegations which surfaced earlier this year and involved schools in the city.
The group stated via one online message that the demonstration "will definitely be in Birmingham city centre and it's 100 per cent on."
"West Midlands division's will be there in our masses."
"Exact times, muster points, and demonstration area will be published a week or so before."
Mirroring last year's demonstrations, a subsequent counter demonstration has again been organised by anti-fascist groups.
Last year West Midlands Police spent more than £1 million policing both demonstrations and, despite the presence of officers, much destruction was caused to the surrounding areas on the day with windows being smashed and fences being broken.
In preparation of their arrival next week, West Midlands Police are making attempts to talk with organisers and demonstrators to ensure the event remains safe and peaceful for participants and citizens.
A spokeswoman for West Midlands Police said, "West Midlands Police is aware that the English Defence League plan to stage a demonstration in Birmingham on Saturday October 11."
She added, "at this stage of planning there are no confirmed locations or times however the force is seeking to work with those involved in the event to plan for a safe and peaceful event for all concerned."