 Woman's Cricket Team Defend Title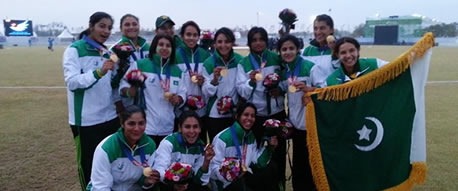 The Pakistani women's cricket team successfully defended their title and defeated team Bangladesh at the Incheon Asian Games cricket final match claiming the first gold medal for Pakistan.
Pakistan was expected to reign as the victor of the tournament, since they were the gold medal winners at the 16
th
Asian Games in Gaungzhou, China. Pakistan team captain, Sana Mir, won the toss and elected to bat first. Marina Iqbal and Javeria Khan started their game on a strong note. Jahanara was successful with a breakthrough on a magic delivery to Javeria Khan who gave a simple catch to Salma Khaton. Marina Iqbal and Bisma Maroof played incredibly well to provide a strong base for a good target.
Pakistan's score was 35 when Marina Iqbal got stumped by the electrified Bangladesh keeper. However, the Pakistan team was successful in regaining foothold and increasing their score. Bimsa left in 13
th
 over when Pakistan had 55 on score board, followed by the skipper Sana Mir at 77. Bangladesh bowlers presented a good comeback by restricting the Pakistan team from scoring and taking consecutive wickets. At the end of 20 overs, the Pakistan team was able to stabilize a respectable score of 97/6. Team Bangladesh was incredible with their bowling by hampering the Pakistan team to 7. 
Just after the Pakistan bating was over, the weather took a turn for the worst and huge clouds covered the sun, followed by heavy rain. The Bangladesh batsmen were unable to open their accounts in the final match for gold medal at the 2014 Incheon Asian Games. The unexpected rain led to an uneasy situation for both the teams. The rain stopped after an hour of heavy fall. Match officials restricted the target to 43 runs in 7 over for Bangladesh according to the Duckworth LewisMethod. It seemed an easy target for Bangladesh and their opening batsmen Ayasha Rehman and Rumana Ahamd proved it by providing a good start for their team. Bangladesh lost their first wicket at 13 when Ayasha Rehman was run out, followed by another run out of Rumana Ahamd.
The Pakistan team was very good to defend themselves on the field. Faranga Hoque tried to resist the Pakistan bowling attack, but she failed aftera long struggle, as she was clean bowled by Sadia Yousaf. After Fargana, no Bangladeshi player entered into the double figure. The last two overs were themost crucial to the match, as well as the tournament. Bangladesh required just 10 runs in 18 balls while they had 4 wickets in hands. Nida Dar and Sana Mir shared the rest of the wickets, rounding off an unbelievable victory for Pakistan.  Bangladesh was 38/9 at the end of 7th over and lost to Pakistan by 5 runs.
The green shirts were able to defend their status of being Asian champions of cricket since their win at the 2010 Gaungzhou Asian Games.