 Police hunt killers of Father-of-three Mohammed Arshad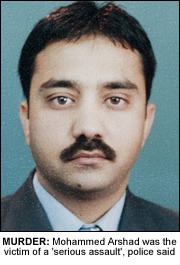 THE family of a murdered taxi driver today paid tribute to him and urged people to come forward with information to help trace his killer.
Taxi driver Mohammed Arshad from Selly Oak was found injured in Wast Hills Lane, Kings Norton, on Wednesday evening and died in hospital yesterday morning.
His Ford Galaxy taxi was found abandoned in Shannon Road, Birmingham – one mile from where he was found.
A post mortem examination carried out found the he died from stab wounds to the head.
Arshad leaves behind a wife and three young sons, as well as three brothers and four sisters who live in the Punjab region of Pakistan.
The 36-year-old came to Britain in 1999 and had worked as a self-employed private hire driver for a local taxi firm for the past six years.
In a statement released by his wife, family, friends and colleagues today, Arshad was described as a loving and caring husband who was devoted to his children.
On the night he was murdered he picked up his sons from his sister-in-law, took them home with supper and then tucked them into bed before saying goodbye to his wife and leaving for work at around 7.15pm. That was the last time they saw him alive.
Paying tribute to him the family statement said: "He was a man with a big heart who was always there for others. His family, colleagues and the community have suffered a major loss.
"For those close to him the brutal nature of his murder is impossible to comprehend.
"He was deeply loved by his family and many friends and will be greatly missed by all who knew him."
His wife said that he had few interests outside work and his family, adding: "He could not do enough for his children. They were his number one priority."
His death had devastated his family's community in the Punjab as much as the community where he lived and the taxi firm he worked for had been inundated with messages of sympathy from customers and other taxi operators in the area.
Brother-in-law, Mohammed Sheraz Hussain, said that Arshad was a "happy-go-lucky" character who was well respected locally. As the eldest of his siblings he was often called on to provide support, advice and guidance for them. He described him as a god-fearing, charitable and generous man who had even sent money to friends and family in Pakistan to pay for medical treatment.
Mr Hussain added: "We won't rest in peace until his killer is caught and we would urge anyone who has any information at all about who might have done this or knows anything that could help the investigation to get in touch with the police."
Detectives investigating his murder are keen to hear from anyone who may have seen Arshad's blue Ford Galaxy people carrier in the area where his body was found.
Witnesses or anyone with information should call West Mercia Police on 0300 333 3000 or contact Crimestoppers anonymously on 0800 555 111.