 Kareena Kapoor gave her lifelike wax figure's new look her seal of approval

Award-winning Bollywood actress, Kareena Kapoor, yesterday afternoon visited her astoundingly lifelike wax figure at Madame Tussauds London and gave its glamorous new look her seal of approval after donating a stunning new outfit.
The figure has undergone a dazzling restyle and now wears a beautiful red sari with gold waist detailing and jewellery inspired by the outfit worn by Kareena in the film 'Ra.one' while performing the song 'Chammak Chalo'.
Fans can visit Kareena's figure for a limited time this summer before it returns to Madame Tussauds Blackpool in the Autumn.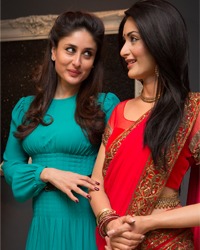 "It was an honour to welcome Kareena Kapoor to Madame Tussauds London to visit her redressed wax figure – particularly as Kareena donated the new outfit herself. Seeing Kareena alongside her figure was a real treat, and I know that fans who saw her today were delighted" said Ben Sweet, Madame Tussauds London's General Manager.
He added, "Kareena's figure will take pride of place in the attraction's Bollywood area until late summer, so fans of Indian films still have time to visit!"
On seeing her redressed wax figure, Kareena said: "The sari looks really pretty, really spectacular – and I always think that the figure's eyes are just like mine."
She added, "I wanted my fans to see my wax figure in an outfit that was known and loved from one of my films, and my favourite outfit to wear out is a sari, so I jumped at the chance to redress my Madame Tussauds figure in one. This is moment I'll treasure forever."
Kareena's figure was originally launched wearing a striking black outfit with silver jewelled embellishment. The actress gave Madame Tussauds' creative team a sitting in Mumbai, where they took hundreds of precise measurements and reference photographs, and was closely involved in styling the overall look of her figure.
In all, the figure took the talented team four months to complete at a cost of £150,000. 
Fans can visit Kareena's redressed figure in Madame Tussauds London's incredibly popular Bollywood area, alongside four other major names in Indian cinema – Shah Rukh Khan, Aishwarya Rai, Hrithik Roshan and Amitabh Bachchan.  
The world famous attraction recently gave fans the opportunity to choose which female Bollywood star will be honoured with a wax figure next year via an online public poll, and will announce the results soon.