 Smart Luxury Watch Company Gc signs up as the Official Timekeeper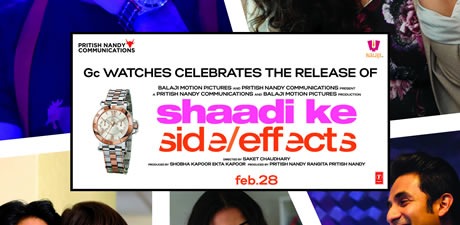 Known for its magnificent, contemporary and 'Smart Luxury' watches, Gc signs up as the official timekeeper of the movie Shaadi Ke Side Effects. A modern day romantic comedy, it depicts the emotional trials and tribulations that accompany an Indian couple's life after marriage.
Gc is a brand with a commitment to provide Swiss Made statement luxury watches to fashionable men and women of today with strong individualist beliefs. Gc watches have a stylish and contemporary design like no other and are designed keeping in mind the ambitious young achievers. The brand has paired up with Shaadi Ke Side Effects as it too depicts the strong character of ambitious individuals with contemporary ideologies, which are a true manifestation of what Gc stands for.
Shaadi Ke Side Effects is a sequel to critically acclaimed Pyar Ke Side Effects. The movie gives viewers, an insight into the life of a married couple and the sack of problems that follow suit. The movie stars Award winning actors Vidya Balan and Farhan Akthar, who have a reputation for taking up and successfully playing off-beat and intriguing characters. The story dwells around the premise of the predicaments that accompany the marriage of two characters that are poles apart. In addition to the difficulties that follow, during and after the birth of their child. All of which is portrayed in a light hearted manner, to prove that it all works out in the end.
The highly malleable actress Vidya Balan is wearing the beautiful and charismatic Gc Femme. Making a bold style statement, she also sports the B2 Class, a watch with a strong design. Vir Das wears the simple and suave Sports class XL and Sports class XXL Ceramic. With his statuesque character, Ram Kapoor wears the Gc Techno Class and the Gc-3 Chrono watches, which have a new age design and colour combinations. The petit, feminine and beauty evoking, Gc Mini Chic and Diver Chic is delicately cast on the wrist of the elegant Gautami Kapoor.
Commenting on the association, CEO of AP Group, Ivana Perovic says, "We are happy to present Gc watches as the Official Time Partner of Shaadi Ke Side Effects. The movie is a very true and amusing portrayal of what difficulties couples endure after marriage. Gc completely relates with characters that are based on the passionate and ambitious young professionals. It is a pleasure to have Gc watches on the wrists of stellar and versatile actors like Vidya Balan and Vir Das among the very talented cast."
Shaadi Ke Side Effects will be released worldwide on February 28th.