 Donor Recruitment Event in Coventry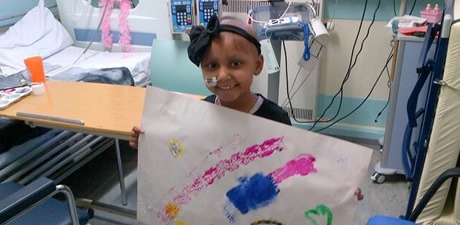 A little girl from Coventry is seriously ill and needs the public's help in finding a matching blood stem cell donor. Rhiane Francois, aged 7, is a huge fan of One Direction and loves to paint her nails. Sadly, she was diagnosed with Acute Myeloid Leukaemia last September and has undergone several rounds of chemotherapy. Once her chemotherapy treatment has finished, she is likely to need a stem cell donation to save her life.
For many blood cancer patients a blood stem cell donation is their only chance of survival, but only half of the people diagnosed in the UK find a matching donor.Rhiane, her family and friends are working with Delete Blood Cancer UK to encourage people to register as potential stem cell donors and are holding an event in London to tell people about becoming a donor and registering those who are interested in joining the registry.
Searching for a life-saving match
The event will take place from 10am-4pm on Saturday 25th January at Belgrade Theatre, Belgrade Square, Coventry CV1 1GS. Anyone in good general health between the ages of 18-55 can register as a potential stem cell donor and pre-registration is possible from the age of 17.
·
The family are also fundraising to help cover the costs of processing swabs given by new potential donors. Rhianehas taken to one of her favourite past times, painting, and is hoping to sell one of her paintings at an online auction.
·
Rhiane's mixed heritage of half Mauritian and half Indian makes the search and hope of finding a match a lot harder and we are therefore particularly encouraging those from this ethnic background to register.
Natalie Francois, Rhiane's aunt says of the search: "When the family  were told about  Rhiane being diagnosed with Acute Myeloid Leukaemia, obviously we  had mixed emotions. You don't expect a child to have such  a illness, but seeing just how positive Rhiane has continued to be, inspired us to do something positive that would not just potentially save Rhiane but also one of the many other patients in need of a stem cell donation.
"Rhiane keeps telling the family that she is fighting this poorly bug. We are working with Delete Blood Cancer UK in order to encourage as many people from our local communities to register to be on standby to donate some stem cells. It's such a simple process that could save a life".
The comedian Paul Chowdry is supporting Rhiane's donor drive and is urging people to register as potential donors and said: "I'm honoured to be involved in Rhiane's Campaign. We all need to raise awareness and make a change within our communities just like this brave 7-year-old Rhiane is doing from her hospital bed. So please come forward and you might be lucky enough to help her and other people like her".
Caroline Portlock, Donor Recruitment Manager at Delete Blood Cancer UK, explains what is involved: "The registration process is simple and takes only a few minutes. It involves filling out a consent form and then using two cotton buds to gently collect cells from the insides of the cheeks, which are then sent to a laboratory for analysis to determine individual tissue characteristics".
Additionally to this another drive will be happening in London, with the details being:
1-6pm on Saturday 25th January at Lark Hall Primary School, Smedley Street, Clapham, London SW4 6PH.