 Mirpuri Lawyer Becomes Model UK Citizen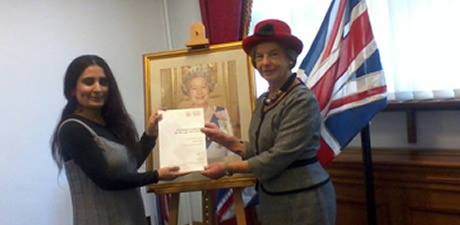 When Iffat Mukhtar, (an advocate of the high court) was defending a land dispute she never expected her journey into the court room in Mirpur, (June 2006) to conclude with her resettling in Sheffield, and later qualifying as a reputable solicitor.
Iffat was one of only a handful of female solicitors already practising in Mirpur. She joined the profession in 2004. During the devastating earthquake of 2005 she volunteered her services and performed the honourable role of a senior lecturer to the Mohindun Medical College and become a lecturer to The Kashmir Law College. In 2005 she further became the finance secretary of The Young Lawyer Association. Iffat further became the founder president of The Women Lawyer Association in 2008. 2008 further witnessed Iffat participating in local elections for the very elite position of Vice Chair of The District Bar of Mirpur. Further becoming the vice president in Kashmir Legal Cell in 2009.
Iffat married and joined her husband in England in 2010. She transported her hunger to integrate and good citizenship by becoming a model citizen. Upon arrival she immediately joined The Anglo Asian Society, The Sheffield, Rotherham and District Council of Muslim. The Elmham Road Neighbourhood watch. Since the inception of the voluntary scheme, Iffat passionately performed the role of a snow warden for Sheffield City Council. She was responsible for organising one of the largest cosmopolitan Queens Jubilee Party where the national anthem was sung in over 20 different languages. Similarly she participated in organising the largest multicultural Royal Baby party designed to celebrate the arrival of the royal baby ( Prince George Alexander  Louis ). In 2010 the Lord Lieutenant (of Leicester) Lady Jenifer Gratton celebrated Iffat's civic achievements during a garden party where she alongside her husband was presented with an outstanding community achievement award.
But Iffat was born to be a lawyer and law was where her heart was and she soon found herself pursuing the career she had come to love. Joining Reiss Solicitor's she pursued her legal conversion course The Qualified Lawyers Transfer Test and successfully passed the course and has now become a qualified Solicitor.
Her decision to join a firm based in Bradford rather than in her new home town in Sheffield was influenced by the fact that the firm ( Reiss Solicitors ) is managed by Practioners who had given so much back to the community. Senior partners Obaid Rathore and Asma Javaid are between them active School governors, local councillors and have been responsible for immeasurable community enhancement projects.
Celebrating her momentous achievements with Her Majesties Deputy Lord Lieutenant Lady ( Marian Rae) in Sheffield Iffat said " I was born to be a lawyer , to fight for people's rights. Sometimes you just know where your skills are. I am very grateful to all the people who have facilitated my journey, made my transition from Mirpur to UK Courts a reality. Particularly the wonderful people of Yorkshire".