 Fundraising will be taking place on Sunday, January 19
Officers from West Midlands Police Sikh Association will join local children this month to help raise funds for victims of Typhoon Haiyan (Philippines).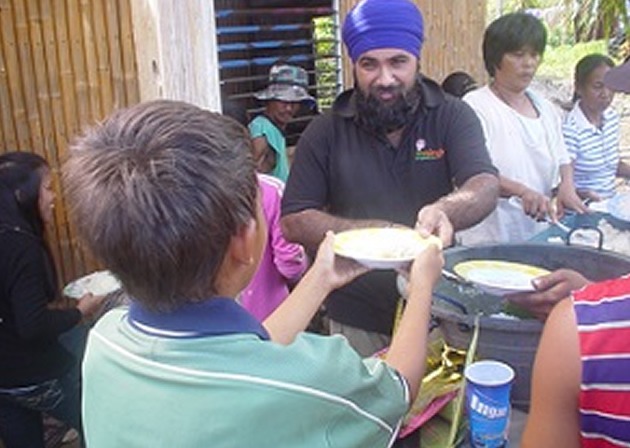 The special New Year event hosted by local children will take place on Sunday 19 January in Wednesfield, where prayers and hymns will be sung for Khalsa Aid, a humanitarian relief charity and starts at 11.30am and will be hosted at Guru Nanak Gurudwara, Well Lane, Wednesfield.
The two hour programme will focus on simran and kirtan (Sikh meditation and hymns). Guest speakers and exhibitions will also highlight the work done so far worldwide as part of Seva (volunteering).
Acting Police Sergeant Harvinder Singh Rai from West Midlands Police, said: "Over 6,000 people died, when the typhoon hit some of the poorest regions of the Philippines. The devastation left meant a long task ahead to rebuild lives and communities – and this battle continues. At West Midlands Police Sikh Association, we want to invite you to join us at this special event or to donate directly to support the appeal."
Ravinder Singh, Founder of Khalsa Aid, said: "For the poor, hungry and the homeless every day is a struggle. There is no special day to celebrate; the struggle to survive is 24/7, 365 days a year. In 2013, with your wonderful support Khalsa Aid changed the lives of many all over the world. Together we can and are making a huge difference to the lives of many.

"Thank you for supporting the humanitarian work of Khalsa Aid, you are all true humanitarians. May Waheguru continue to bless you all."
In a recent message from the victims of the disaster – simply: "Happy New Year and thank you to all the Khalsa Aid donors and supporters. The people of Philippines deeply appreciate all the support provided to them by Khalsa Aid after the devastating typhoon."
You may recall an image on CNN of a mother crying while clinging to her child during the typhoon – a woman from the UK saw this upsetting image and began a company-wide collection to help the disaster – she was contacted by a man, who was discovered to be the brother of the upset mother. Khalsa Aid tracked the upset mother and personally delivered the donations from the woman who made the appeal to her colleagues. Exclusive video from the mother and child thanking the UK and Khalsa Aid is available.
Khalsa Aid has 'adopted' a small town on the coast called San Dionisio, in the province of Iloilo. This town was badly hit by the Typhoon and over 90% locals have been affected. Khalsa Aid set up a semi-permanent base in a nearby town and are work closely with the local community. Khalsa Aid has been able to source aid materials and skilled labour at a competitive price in the local market and has commissioned a group of local carpenters to build new boats for the victims so that they can get back on their feet and start earning a living. On 20 December 2013, the first Khalsa Aid built boat was ready to go to sea (images are available). Khalsa Aid will also assist the locals with the clear up operation and supply building materials for the rebuilds and repairs to the damaged homes

Khalsa Aid is committed to selfless seva (service) through Humanitarian Aid work. Drawing inspiration from Guru Gobind Singh Ji who taught to "recognise the entire human race as one". Khalsa Aid volunteers are deployed immediately wherever in the world humanitarian aid is needed, providing relief assistance to victims of disasters, wars, and other tragic events around the world. The UK registered charity established in 1999 and is an international non-profit aid and relief organisation