 over 50 people came together at the St. George's Community Hub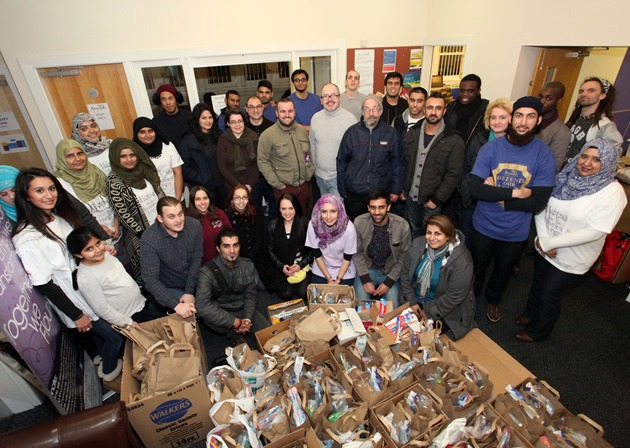 A team of volunteers from Birmingham have been sharing some festive spirit this season by distributing free food and warm blankets to the city's homeless population. 
The group of friends and supporters joined the Birmingham Food Drive to prepare over 200 food packs, which were then handed out to rough sleepers, the homeless and those living in shelters. They also distributed warm clothes, blankets, cakes, toiletries and other donated items.
Following a call-out on social media networks, over 50 people came together at the St. George's Community Hub in the city's Jewellery Quarter to prepare the food packs before distributing them at Albert Street car park near the Bullring. Use of the hub and cooked food was provided by domestic violence charity Amirah Foundation, with other resources and donations arranged by Birmingham with the Homeless, Can Hunger UK and Value Events UK.
Birmingham Food Drive organiser Adam Yosef, a former rough sleeper, said the generosity of individuals to the effort was invaluable:
"We held out first winter food drive for the homeless and hungry last year. One of the individuals we met and donated items to was Big Issue seller Ian-Watson Gladwish. Unfortunately, a week later he was stabbed to death in Martineau Square. It was such a shock but a realisation of how difficult life is on the streets.

"The festive season is an especially lonely time for those who have to spend it on their own and on the cold streets. I think it's amazing that so many people can come together and give so much to those in need at a time when there is so much emphasis on commercialism. This weekend a tiny village was created in a car park where everything was free to anyone who needed it and I think that's a very beautiful thing."

The food drive was also held in memory of Ivy Whitehorne, an active member of Aston Newtown Community Seventh Adventist Church who joined the Food Drive last year but unfortunately died of cancer in September.
Organisers hope to make the distribution of food and essential items to those in need a regular activity. Anyone wishing to join in can follow Birmingham Food Drive on at 
www.facebook.com/BrumFoodDrive.