 Asim Azhar is considered the next big name in Pakistani pop music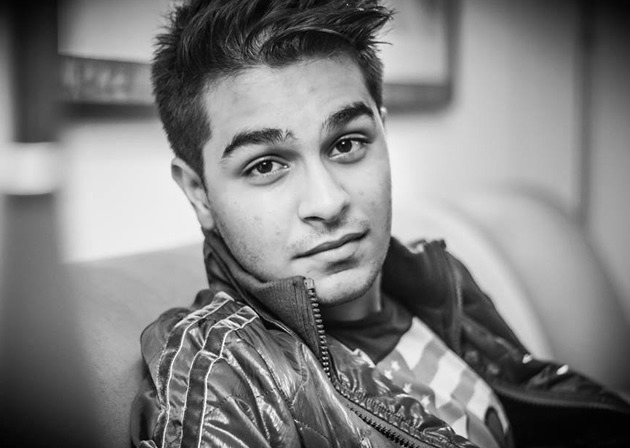 Asim Azhar. Even at a very young age his is considered the next big name in Pakistani pop music. Using platforms such as YouTube, he has been able to establish himself and share his music with his thousands of funds. His music is a combination of Urdu/ Punjabi and English with hits including "Sunlay" and a Urdu remix of Ed Sheeran's "The A Team." Asim spoke exclusively to The Asian Today about his new single, "Hands in the Air" and what brings out the best in him.
1.

     

Your new single, Hands in the Air, released on the on December 27th which is also your mothers birthday, what was the inspiration behind the single?
Yes, it was released on my mom's birthday. I wanted to make it special for her. As far as the inspiration behind the single is concerned, it's a very happy song which intends to make the listener jam to the beat and move. Whenever I go to a party and see people dancing to up-beat pumpy tracks, I start wanting it to be my track that's being played, so I see people enjoying and having the time of their lives to my music. But I also realised that the type of music I have made till now doesn't fit this category well so I started writing and writing and ended up with this.
2.

     

Who are your musical inspirations?
My father, Azhar Hussain has been a major inspiration in my life, especially waking up everyday to him practicing on his harmonium. Seeing all my life and the massive amount of dedication he gave and the respect he earned all by his hard work. Other than that, I'd say the kind of music I have grown up listening to has been very much of a blend, both eastern and western.
From the east, I have really admired Nusrat Fateh Ali Khan Sahib and grew up listening to a lot of Vital Signs, Nazia & Zohaib, Faakhir, Haroon etc. From the west side I'd say a lot of Justin Timberlake, Usher, Chris Brown, Michal Jackson, Jason Mraz and more.
3.

     

You have a mixed blend of Urdu, Punjabi and English style of music. Who is this aimed at?
For people like myself! I like listening to all three styles so I thought why not try a blend.
4.

     

It has been previously said that you are the Pakistani version of Justin Bieber. But you have rejected this idea. How are you different from each other?
I don't know, I mean just because I started at almost the same age as someone doesn't mean I'm someone's version, you know. But it's definitely not taken in negative way from my side. He's one of the biggest stars out there right now and if someone thinks I'm somewhat on the same kind of footsteps to success like that, then I'd love to go till the end of this footpath. He's a great artist and I respect him and his work, but at the end of the day, I'm me.
5.

     

How has a platform like YouTube helped you to maintain your image as well as rejuvenate Pakistani pop music?
I started from YouTube. Having no means to television channels, but that didn't stop me. Social media is the finest mean to portray yourself. It has helped a lot, but it doesn't affect as much as it did before because of the ban that was put on YouTube by the Pakistani government. But we still didn't hold our horses, some how we still manage to get ourselves out there so imagine what it would be like with YouTube to our access. On behalf of all the Pakistani based artists, I really hope the ban gets lifted soon.
6.

     

You've done a series of cover songs; which one has been your favourite?
My favourite is The A-Team (Urdu Remix). Normally, I let the people judge my music but I really like this one.  
7.

     

How do you balance your music with everyday life?
I just try to live my life as a normal kid. It's not that hard I tell you! I hang out with friends, go out, play sports, study and anything that a regular teenager would do. But yeah, when it comes to work (music) I try to make it the primary priority.
8.

     

What has been the most memorable moment so far?
They've been a lot I guess. It could be performing my first sold out solo concert, playing for 5000+ people in Washington, DC or when Ed Sheeran himself complimented on my A-Team's (Urdu Remake) or when my first single 'Sunlay' hit number 1 on various Pakistani charts. It's been a great ride so far!
9.

     

You're trying to break out in to the UK, amongst other countries, describe yourself. Who is the real Asim Azhar?
No lies, Asim Azhar is just another teen who likes to have fun in life and is getting to do what he loves. And I'd love to perform for the fans in the UK whenever I get a chance.
10. 

You have also done acting, appearing in Geo's "Zindagi Udaas Hai" is this the first of many more dramas?
This was actually my third appearance on a television project. I have previously worked for HUM TV. Like I said, just living life, going with the flow, whatever comes across that I think is good, I do it. I really enjoyed the experience and looking forward to the coming ventures.
11. 

What lies in the future for you now?
I wish I knew! But for now, I just plan to keep doing what I'm doing. Get better day by day and keep entertaining my fans until I can smile.
Quick Fire Questions
Apple or Samsung ;
                Apple
Cricket or Football
Cricket (Even though I love Football)
Spiderman or Superman
  Spiderman.
Lahore or London ;
 Uhh, tough one! I'd say both.
Bhangra or Bollywood
              Bhangra.
Coffee or Tea
               Tea.
Sunrise or Sunset
Sunrise.
Sweet Or Sour 
Sweet. 
Xbox or Playstation
Xbox.
Harry Potter or The Hobbit
Embarrassed to say never seen any of them!
Chocolate or Sweets
Chocolates.
BMW or Audi
Audi.
Roti or Rice
Roti.
Vanilla Ice Cream or Strawberry
Chocolate over both!