 Visited in celebration of public good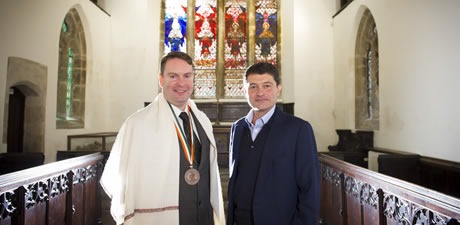 De Montfort University (DMU), Leicester, welcomed special guest Vinayak Bhattacharjee, Gandhi's great grandson, at a celebration of its commitment to public good through its award winning Square Mile initiative.
Vice-Chancellor Professor Dominic Shellard initiated DMU Square Mile to share knowledge and resources beyond the campus boundaries, in the spirit of Gandhi's inspired quote: 'You must be the change you want to see in the world'.
Mr Battacharjee has a personal connection to public good through his family legacy, recently publishing a translation of his mother Tara Gandhi's book, 'Reflections of an Extraordinary era' at the event, for which he wrote the foreword.
Mr Bhattacharjee said: "I was invited to celebrate the success of DMU Square Mile and I have been able to reflect upon the good work that the university has done.
"I have led a relatively anonymous life to this point, only recently in the spotlight due to having this book published.
"Gandhi's message is more relevant than ever before and I wanted to share the reflections of Gandhi's granddaughter, my mother, in the book which was originally written for family."
With the expertise of staff and student volunteers, DMU Square Mile currently runs 40 projects for the benefit of its local community in Leicester – including the Homework Club which offers mentoring and language support to dozens of local school children.
More than 1,700 people have joined the Anthony Nolan bone marrow register under the Square Mile Stem Cell Campaign. Through this initiative DMU was responsible for the single biggest recruitment of any university in the UK.
Professor Shellard said "It has been a privilege to welcome Vinayak to DMU and to pay tribute to Gandhi.
"I think Gandhi's values are inspiring for students, so they know they can be the change in the world today.
"His principles of mutual respect, working together, understanding communities and sustainability have all inspired DMU Square Mile."
As a truly international university, DMU has close links to India. And through the university's ground-breaking initiative #DMUglobal, Square Mile will be able to take learning and engagement opportunities overseas – with the hope of developing this within India.
#DMUglobal will offer more than half of all students the opportunity of a life-enriching international experience during their studies, as part of the university's commitment to providing excellent student experience.
DMU Square Mile has this year received international recognition with the prestigious Mahatma Gandhi Seva Medal and the Mahatma Gandhi International Award – awarded for distinguished contribution to the community by the Gandhi Global Family (GGF) in Delhi.
The initiative was also recently highly commended in the "Outstanding Contribution to the Local Community" category of the Times Higher Education Awards 2013 and two DMU Square Mile projects have been shortlisted for outstanding positive contribution to the local community in the Guardian University Awards 2014.
As well as staff and student volunteers, guests at the DMU Square Mile celebration event included members of the local community who had participated in IT4Free – an innovative project providing social media training to local residents and school children.
Sharda Parma, a local resident who had IT4Free training said: "IT4Free has changed my life immensely. Learning how to use the Internet for the first time, as an elderly lady, has allowed me to see what is going on in the world. The tutors are really good – we have learnt so much."