 Title track of hit Punjabi film release 'Love Yoou Soniye'!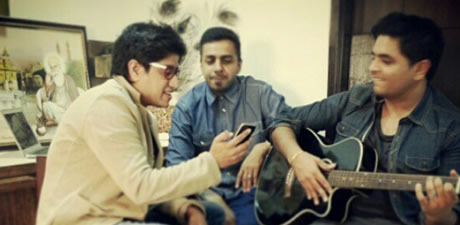 British Asian music pioneers Rishi Rich and Juggy D have a hit-making chemistry found very rarely in the music business. The duo have created some of the biggest British Asian and Bhangra tracks of the last decade and have teamed up once again on their latest track. 'Love Yoou Soniye' is taken from the Punjabi film of the same name which releases today (6th December) in cinemas nationwide. The title song sees Rishi Rich and Juggy D recreate their magic, fusing their trademark styles with the sounds of Bollywood composer Harry Anand.
Commenting on the new track, Rishi Rich says: "Love Yoou Soniye' is a really fun track. Juggy and I have made so many songs together but we never get tired of it and on this occasion it was no different. Teaming up with Harry Anand to create an international Punjabi sound for this great soundtrack, we are really pleased to share the title song and the film with all of our music fans and film lovers around the UK and internationally."
Juggy D adds: "Love Yoou Soniye' is a catchy up tempo number which was a lot of fun to make. I was also asked to be a part of the video which stars the cast of the movie. All in all it was a fantastic opportunity and reminded me of the great fun we created on the now infamous 'Hum Tum' soundtrack almost 10 years ago. 'Love Yoou Soniye' is going to be a big film release internationally and I hope you all enjoy it."
Prepare to fall in love with the most charming Punjabi film offering of the festive season, as delightful screen gem, 'Love Yoou Soniye', releases in cinemas across the UK today (6th December), releasing via B4U. Extending B4U's foray into regional, Punjabi cinema, 'Love Yoou Soniye' is directed by Sahil Kohli.
The first film to bring a touch of Bollywood magic to the regional, Punjabi film industry, 'Love Yoou Soniye' is a college-set film for the young at heart, featuring a cast and crew from B-town and a standout musical score by international music composers like Rishi Rich and Harry Anand. 'Love Yoou Soniye' is the first crossover Punjabi film which aims to attract not only existing Punjabi film fans and aficionados but also reach out to lovers of mainstream Indian cinema.
The soundtrack features the title track by Rishi Rich, Juggy D and Harry Anand and also features Ishq Bector, Shree D and Palak Muchhai, who have all contributed to crafting one of the most hypnotic soundtracks of recent times for the film, which is sure to dominate the airwaves globally.