 New technology introduced to tackle crime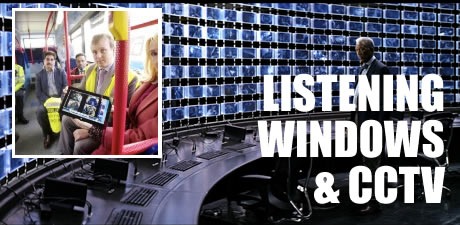 Windows which can "listen" and activate CCTV cameras when they are being attacked may sound like science fiction but this groundbreaking technology has hit the streets of Birmingham.
The National Express "Trojan" bus was deployed along the number 6 route in Sparkbrook last night (Tuesday 5 November) in direct response to safety concerns from local people.
Microscopic microphones have been embedded into windows to automatically detect when they are being vandalised.
Rather than listening to passenger conversations, the microphones are calibrated so that they only activate when they "hear" the sound of scratching, cracking or graffiti being daubed on them.
When this is detected, onboard high definition CCTV cameras automatically zoom in on the window to capture the vandal. An alert is also sent to the depot so staff are aware a crime has been committed.
The CCTV can also be monitored live in real-time in the control room by officers watching on secure 4G enabled laptops and tablet computers in a following car. The images are also automatically recorded and can be used in court as evidence.
The technology, along with bright LED lighting, has been fitted to improve people's feeling of safety at a cost of £2,500 for each of the nine buses fitted with the lights, cameras and microphones.
National Express has earmarked up to £500,000 to rollout the improvements. Ben Craze, from the company, said: "Passenger safety is our number one priority and the installation of the new technology will help towards that."
The kit was installed on the 10 year-old bus, which looks like any other, and showcased as part of Operation Seal – an intelligence led operation launched in direct response to community concerns about crime on the bus network.
The operation ran between 2pm and 6pm to coincide with the end of school − a key time for vandalism and robberies.
Sparkbrook police Inspector Rachel Crump uses the bus to travel to and from work and led Operation Seal. She said: "Crime on the buses has fallen over recent years and this operation is about us showing the residents that we are reacting to the concerns they have raised with us.
"West Midlands Police and our transport partners will not tolerate anyone going on to our buses carrying knives, acting anti-socially or causing criminal damage.
"I would encourage anyone who witnesses anti-social behaviour or crimes being committed on the bus to call police immediately or alert the driver who has a panic alarm and is in direct radio contact with the control room."
Thirty police officers took part in the operation including Safer Travel officers, responsible for policing the regions transport network, and offender managers, who work to keep previous offenders out of crime, and detectives from the force's Gangs Taskforce.
While some boarded buses with National Express ticket inspectors, three followed the bus in an unmarked police car while monitoring the live CCTV acting as "spotters" looking for known or wanted criminals and any signs of criminal behaviour.
When officers monitoring the footage spotted individuals who gave them cause for concern they radioed the description through to officers who would then board the bus and talk to the person.
One man, 25, was arrested on suspicion of assaulting a police officer and later fined.
Ticket inspectors checked the tickets of 4,105 passengers on 161 buses and issued 116 £35 fines to fare dodgers.
The multi-agency operation was monitored by around 20 Sparkbrook students and residents who had confided in police at a meeting that they felt unsafe using buses following the death of 16-year-old Azim Azam in September and because of their own experiences of anti-social behaviour.
Some residents who were also members of the local Street Watch group handed out anti-knife crime messages to youngsters.
Bishop Challoner student, Colette Duffy, was one of the independent observers. Her feedback on the operation will help shape the way future operations are managed.
She said: "When I use the buses I tend to sit on the bottom deck as there's a presumption that things are more likely to happen upstairs.
"Seeing what they've done with the buses now it is encouraging to be able to go on the bus and to feel safer and to know that they are doing something about it. They should make everyone aware that these buses are out there.
"I was shocked to see how much the police do put into making sure we're safe on the bus."
The operation will be repeated in the coming weeks and in other areas of the West Midlands where commuters report concerns to police.
Incidents on the buses can be reported via the See Something Say Something app or by calling 101. If a crime is in progress people should dial 999.
In addition to local officers, West Midlands Police has a team dedicated to tackling crime on the region's transport network.
Safer Travel is a partnership between Centro, West Midlands Police, British Transport Police and transport operators such as National Express West Midlands.
The team conduct both uniformed and plain clothed targeted patrols based on information passed to them from the public.