 Brit Sports Academy makes footballing dreams of Indian youngster come true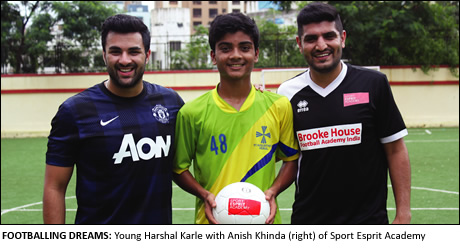 A YOUNGSTER from India has been given the chance of a lifetime after winning a UK football scholarship.
Harshal Karle from St Augustine School Navi Mumbai beat hundreds of youngsters to win the scholarship provided by Sport Espirit Academy.
The initiative has been led by former British Asian footballer Anish Khinda.
14-year-old Harshal's opportunity marks the second time Anish has scouted young football stars through a nationwide talent hunt in India.
Last year the Academy selected Delhi-lad Dilshere Singh Sandhu for a scholarship worth 22 lakhs.
Dilshere got an opportunity to train for a year at UK's Brooke House College Football Academy.
This year Sport Esprit Academy ran the competition in association with Ryan International Schools PAN India.
The competition ran 12 day soccer camps at each Ryan School we hosted at and these were Cambridge School Kandivali, Sanpada, Bangalore, Surat & Gr Noida.
Each camp was delivered under the watchful eye of Anish Khinda an ex professional footballer from the UK and also an official EPL club scout.
Anish has also worked with ex Manchester United manager Ron Atkinson and ex England Star Paul Gascoigne, also delivering the camp and running the selection process was technical director of Sport Esprit Academy Michael McGannon who was formerly with Arsenal Soccer School in the UK. 
A spokesperson for The Sport Esprit Academy said: "The Sport Esprit Academy team of selectors don't just look for a player who can score all the goals, or a player who has the most amount of skill.
"Sport Esprit Academy look at the bigger picture and the player who has been selected has been identified as the player who we believe can develop the most under the guidance of our coaches, the player also represents a good understanding of the whole round game, shows good sportsmanship and commitment and most importantly understands the importance of managing themselves on and off the pitch. We are very excited to hand this life changing prize to the winning player. "
Having agreed a long term deal with Ryan International Schools, Anish in confident many more youngsters will receive the opportunity to train in the UK.
"The official agreement to form a long term partnership with India's largest private school institution speaks volumes for Sport Esprit Academy. We had a vision to be a world renowned sports academy in coaching, development and excellence and slowly we are getting a firm hold of the market to be the leaders. We have created exciting opportunities for our members through our projects as well as promoting fair play and equality. We are excited to be extending our relationship into the UAE and within a few years we are confident to be operation in Abu Dhabi & Qatar with the Ryan Group of schools. "Our whole team is extremely excited to start this long term programme and work towards Chairman of the Ryan Group's vision Mission 26. Dr Augustine.F.Pinto Chairman of the Ryan Group has a strong vision to produce sporting excellence and have Ryan students representing the national teams at international levels and Sport Esprit Academy have the opportunity to really encourage this. The hard work really starts now and our coaches will be working effortlessly on and off the field".