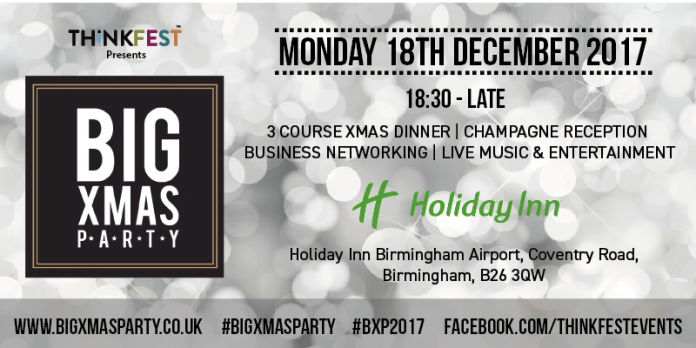 The "Big Xmas Party" is a Christmas party for everyone. Whether you're a small company, solopreneur or just can't deal with the hassle of organising your office Christmas party then we have it all under one roof. If you're in charge of organising your office Christmas party, we can take the distractions away, allowing you to continue with your daily tasks.
Not only does it save you time and stress, but it also means you only pay per person attending. The idea is that you leave the organising to the professionals and attend as a guest to enjoy the event in the company of other companies. We know what makes a great event so rest assured your colleagues will love the fact they will be attending a well planned, organised and catered event.
This year the "Big Xmas Party" in Birmingham will be taking place at the Holiday Inn Birmingham Airport. Entertainment on the night will be hosted by Slightly Unsual and includes a live band, magic, comedy washed down with procesecco and a three course christmas meal with all the trimmings.
Programme for the Evening
18.30 – 19:00 – Registration
19:00 – 19:30 – Drinks Reception & Networking
19:30 – 20:00 – Starters Served
20:00 – 20:30 – Introduction Speeches
20:30 – 21:15 – Multi Award winning Illusion Show
21:15 – 22:00 – Mains Served
22:00 – 22:15 – Xmas Comedy Show
22:15 – 22:30 – Desserts & Closing Speeches
22:30 – Late – Live Music and Disco
Tickets include entry to the event, dinner and entertainment, if you would like more information or would like to book a bespoke package please email kasim.choudhry@pathwaygroup.co.uk
VISIT: www.bigxmasparty.co.uk for ticket info.
A WORD FROM:
Safaraz Ali (Saf) of Pathway2Grow Business Networking Group
Organiser of Big Xmas Party – A Christmas Party for everyone – Mon 18th Dec 2017
10 Reasons why business people attend business networking events:
Many business people like meeting new people!
Most business contactslook for business from a business group/network.
Knowledgeable business people recognise the
need for business networking.
Small business networking provides added value benefits.
The associated low costs of joining a business
network are economically attractive.
Many business owners like pitching their services
and products to other business contacts and likewise buying fom a referred source.
Most business contacts see the benefits of attending a contact network
event that has 25 + people.
Many business contacts thrive and exploit the group's business contact opportunities.
Many business people recognise a face to face meeting is better form of forming a business relationship.
Most business owners consider attending business networks a good investment in time and recommend this to others!
Recent published figures revealed that business networking accounted for 79% of all new business sales.
We'd love to see you at our next event. We are running a number of events throughout the year, to allow local businesses to network, learn more, find support and get some great business tips along the way.
Contact Safaraz Ali, Founder of Pathway2Grow   on Telephone: 0121 707 0550
or Email: safaraz@pathwaygroup.co.uk.