 Charity Karma Nirvana train officers at Birmingham Airport in bid to save victim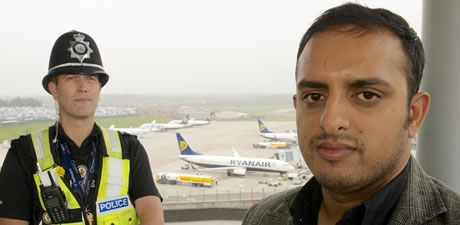 FOR young people in the West Midlands who are being forced into marriage against their will, the airport is often the last opportunity for them to break free from their captors before being flown abroad.
Every year hundreds of young people across the country, both male and female, are forced into marriage, often by violence and blackmail from their own families.
Now police officers based at Birmingham Airport are receiving specialist training from the forced marriage charity Karma Nirvana about how they can better spot potential victims before they are put on to a flight under duress.
The inputs, which are also being delivered at other airports nationwide, form part of Operation Sentinel, a long-running campaign by West Midlands Police to strengthen the force's commitment to protecting vulnerable victims, focusing on five key crime types.
Anup Manota from Karma Nirvana, who is delivering the presentations, said: "We're aiming to equip all police officers with the learning and knowledge that they need in order to provide the best possible support when faced with a victim at the airport, which is often the last opportunity for them to get help in the UK.
"It's a positive step that police at Birmingham Airport are taking this initiative in tackling forced marriages. Airports have a critical role in assisting forced marriage victims at the very last hurdle, whereby without this assistance they could be subjected to some of the worst types of abuse abroad."
One officer who received the vital training was PC David Price.
He said: "I had a very basic understanding of forced marriage, I knew it went on, but the degree and focus of the training and to hear some of the more important issues around forced marriage was really enlightening.
He added: "I thought it was really interesting getting an input on a topic which is outside the norm and makes you think about the passengers travelling in and out of the airport. Anything that makes you think about the underlying potential dangers presented to travellers, particularly when it's such an important topic as forced marriage, has got to be useful."
Detective Sergeant Trudy Runham has been spearheading West Midlands Police's drive to educate people about forced marriage and honour-based violence with a view to increasing the level of reporting.
She said: "There are really only a limited and unique number of opportunities to give victims the help, guidance and support that they so desperately need and police officers at the airport are often their final hope.
"But the reality is that there are some officers who aren't sure what exactly they should be looking out for when it comes to spotting potential victims of forced marriage, which is why this training is so vitally important."
The government's Forced Marriage Unit dealt with almost 1,500 cases of forced marriage across the country last year, of which 16 per cent were in the West Midlands.
Anyone who is worried that they may be forced into marriage, or who knows someone who may be, is urged to call Karma Nirvana's Honour Network Helpline free and in confidence on 0800 599 9247.