 £10,000 Reward offered for information in Mohammed Saleem murder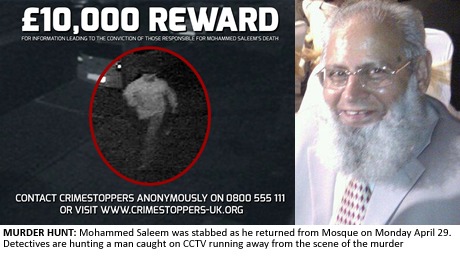 DETECTIVES investigating the murder of Mohammed Saleem will revisit the scene in Small Heath where he was attacked as he walked home two weeks ago.
Police will be in the area talking to members of the public and encouraging anyone who saw anything suspicious to come forward.
Officers will be stopping vehicles and passers-by to ask if they were in the area a fortnight ago and whether they have any information about the attack.
They will also be handing out leaflets with details of the £10,000 Crimestoppers reward being offered for information leading to Mr Saleem's killer.
The 75-year-old was attacked as he walked home from the Green Lane Mosque along Little Green Lane just before 10.30pm on Monday April 29.
Officers remain focused on identifying a man captured on a CCTV camera running along Wyndcliffe Road near to where Mr Saleem was brutally murdered.
Detective Superintendent Mark Payne, from force CID, said: "We continue to investigate every lead we have and are very grateful for the calls we've had from members of the public to help us find Mr Saleem's killer.
"There has been real support from local residents and members of the congregation of Green Lane Mosque and we appreciate the help they have given our investigation so far.
"We continue to appeal to anyone who can help us identify the man seen in the CCTV footage − someone out there must know who he is and we urgently want to speak to him.
"I want to reiterate how important it is to come forward with any information you may have. If you are reluctant to contact us, you can speak to us anonymously and we have plans in place to support and protect witnesses through the justice system.
"Our thoughts remain with the family of Mr Saleem and the wider community who have been affected by his murder."
The motive for the attack remains unclear and detectives continue to investigate all lines of enquiry."
Anyone who can identify the man in the CCTV should call police on 101. Alternatively, people who do not want to speak with police officers directly can contact the independent charity Crimestoppers anonymously on 0800 555 111.