 Father who lost his son in 2011 riots takes one million kilos of flour to Syria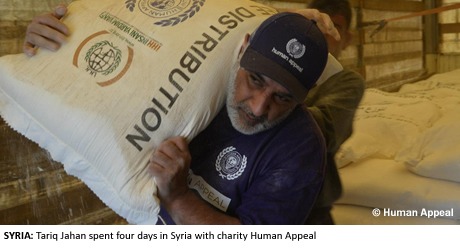 THE man who became a national hero after appealing for calm during the 2011 summer riots has led an aid mission to war-torn Syria.
Tariq Jahan, from Birmingham, was hailed a hero when he went on national television and appealed to people in his community to stop rioting. His appeal came just hours after his own son and two friends had been mown down and killed by a hit-and-run driver. During his appeal Mr Jahan also called for rival gangs not to take revenge for the deaths of the three men.

Mr Jahan, 46, joined forces with Human Appeal, a UK-based charity, to deliver much needed food and flour Syria.

An estimated six million people face starvation in the country devastated by two years of conflict.

Mr Jahan – who was also given the Pride of Britain Award in 2011 for his actions during the riots – says his own tragedy has compelled him to help other suffering communities.

"I know the pain of losing a child like so many people in Syria now," he said.

"Human Appeal is currently on the ground helping the innocent people who've been caught up in this terrible atrocity. After hearing about the work Human Appeal is doing I knew I had to help."

Mr Jahan's efforts are spearheading Human Appeal's 'Make Bread not War' campaign.

Its goal is to distribute one million kilos of flour to people in towns and villages across Syria, with the help of local partners.

During his four-day trip to Syria Mr Jahan was with a convoy which took flour and other food and visited hospitals, schools and refugee camps.

Mr Jahan's 21 year-old son, Haroon, was one of three who were killed by a speeding car as they protected their homes and local shops from looters during the summer riots which swept the UK in 2011.

Just hours after the killing Tariq Jahan's plea for peace at the height of the riots, resulted in an immediate end to the violence and theft. Local gangs were also told to calm down and not seek revenge.

Images of Mr Jahan were beamed across the globe and views on YouTube have reached into the hundreds of thousands.

Apart from the Make Bread Not War campaign Human Appeal http://humanappeal.org.uk has a number of humanitarian projects running across other disaster and war-torn areas of the globe.