 Victim Balbir Singh, 54, had suffered 150 injuries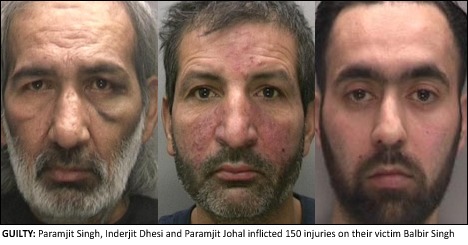 THREE MEN have been jailed for 13 years each for the manslaughter of their friend who died after a three-day drink-fuelled binge.
Balbir Singh died in a dingy flat in Tividale in March this year after being beaten over a course of several days by people he knew as friends.
The 54-year-old had a total of 150 separate injuries at the time of his death, on 5 March. A forensic post mortem found that he had died from an accumulation of multiple blunt force trauma injuries.
Three men, who he knew as friends, were later arrested in connection with his death.
The men, Paramjit Johal, 50 from Tividale, Paramjit Singh, 46 from Gravesend, and Inderjit Dhesi, 31 from Oldbury, were later charged and found guilty of manslaughter last month.
Detective Sergeant Mike Griffiths from the Force Criminal Investigation Department investigated Balbir's death. Following sentencing, he said: "This was an appalling and deeply distressing case. Mr Singh was subject to a sustained beating over several days. He was so badly beaten that he ultimately lost his life.
"People who he knew as friends abused his trust and degraded him in a sickening and cruel fashion."
During his days of abuse Mr Singh was also humiliated, with his beard being shaved and his turban removed. Naked photos of the victim were found on a mobile phone.
The father of three had been beaten over a prolonged period with various weapons including a monkey wrench and the court heard how the victim's body was largely covered in bruises.
The three men who were at the flat when police arrived that night were arrested and subsequently charged. After a seven-week trial, the jury returned guilty verdicts for all three defendants to the charge of manslaughter on 14 November.
DS Griffiths added: "What led to the sustained violence has never truly been confirmed. The defendants gave varying explanations as to how Balbir sustained these injuries. Not one of them has accepted causing any of those injuries and they all sought to blame each other.
"Balbir's widow Parminder travelled from Northern India to give evidence during this trial. She has been unable to remain in the country during the duration of this lengthy trial. My thoughts are with her and with Balbirs family at this time."