 Jatinderpal Singh Bhullar talks of 'honour' at Buckingham Palace role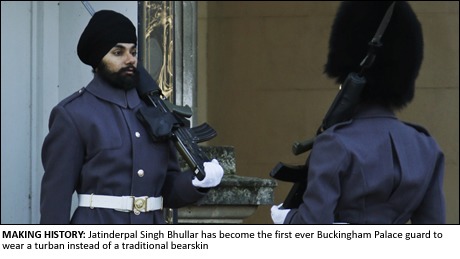 A SIKH soldier has made history by becoming the first ever Buckingham Palace guard to wear a turban instead of a traditional bearskin.
Jatinderpal Singh Bhullar, originally from the Midlands, was allowed to break hundreds of years of tradition to observe his religion after joining the Scots Guards.
The 25-year-old said it was an "honour" to be able to wear a turban while conducting his duties at Buckingham Palace.
"Conducting public duties while being a practising Sikh and wearing my turban is a great honour for me," he said.
"I am very proud to be a member of the Household Division and to be the first Sikh Guardsman to mount guard in a turban will be the best thing in my life, especially as a member of the Scots Guards. The regiment is full of history, as is my religion."
Guardsman Bhullar is not the first Sikh to join the Scots Guards, although he is the first to wear the Turban – an action which prompted discontent among some who were quoted in various newspaper reports disagreeing with the decision.
But Army officials dismissed the comments saying it took "great pride in its diversity."
Lieutenant Colonel Robert Howieson, 1st Battalion Scot Guards, based at Forward Operating Base Ouellette in Helmand province, welcomed Guardsman Bhullar joining the battalion.
He said: "When Guardsman Bhullar joins the battalion, he will be a very welcome addition indeed to our ranks, and will be judged only on his merits as an infantryman. The precedent for Sikh soldiers wearing turbans on parade in preference to other headdress was set long ago and it is the British Army norm.
"We welcome the additional diversity; Guardsman Bhullar will join brother Guardsmen of a wide range of ethnicities, religions and denominations. When Guardsman Bhullar marches onto Buckingham Palace Forecourt for the first time, we, his regiment, will be very proud of him as he writes another chapter in our long, distinguished history."