 Court hears husband and in-laws believed Naila Mumtaz was possessed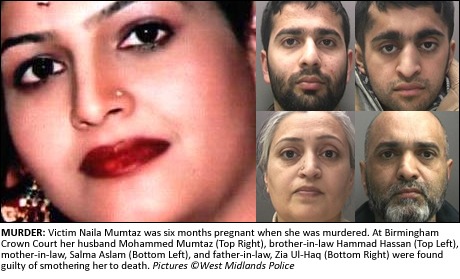 A HUSBAND and his family have been found guilty of murdering a pregnant young wife at her Birmingham home, in the belief that she had been possessed by Jinn spirits.
Naila Mumtaz died in hospital on 8 July 2009, after she was found collapsed at her home in Craythorne Avenue. Paramedics were called to the address by family members, however the 21-year-old could not be saved and she was pronounced dead a short time later.
Naila, who was six-months pregnant at the time of her death, died as a result of smothering, according to a post mortem examination, and the trial heard that members of her husband's family had deliberately caused her death.
The court heard how Naila's husband Mohammed Mumtaz, father-in-law, Zia Ul-Haq, mother-in-law, Salma Aslam, and her sister-in-law's husband Hammad Hassan, believed that the young woman, who had arrived in Birmingham some two years earlier from Pakistan, had been possessed by Jinn spirits.
Following a lengthy investigation by the Force Criminal Investigation Department the four defendants were charged with Naila's murder and, after a 12-week trial a jury of four men and eight women found them guilty.
Detective Inspector Simon Astle said: "This was a tragic and deeply upsetting case, where a young woman had her life so horrifically ended by those she loved and trusted.
"Naila was a pretty, outgoing young woman who was soon to become a mother for the first time.
"It is unthinkable that those who she was closest to would take her life in the belief that she had been possessed by evil spirits.
"Naila should now be enjoying the joys of motherhood and family life but instead her family back in Pakistan continue to mourn her death, still shocked and unbelieving that the family she entered into caused her death.
"We hope that the verdict and resulting sentences will offer some comfort to Naila's grieving family and friends both here and in Pakistan.
"This investigation proved challenging and was a painstaking process for all of the officers and external agencies involved and I would like to offer my gratitude for their hard work in ensuring those responsible have been brought to justice."
Speaking after the trial, Naila's family released the following statement: "Naila was a happy, confident and beautiful young woman. She came to Britain to be with her husband; we entrusted our most treasured, beloved only daughter to him and his family.
"Naila was almost six months pregnant with her unborn son when she was killed in her home destroying her hopes, dreams and opportunities for the future.
"We would like to thank West Midlands Police and Crown Prosecution Service in seeking justice for Naila; we are very grateful for the jury using plain, common sense in bringing the perpetrators to justice.
Naila will always be in our hearts and prayers and we hope her memory will live on by bringing about awareness of the issues surrounding her unfortunate death."
"Our aim now is to raise awareness of the issues faced by Naila and young people like her, they need to be able to discuss openly the issues which arise so they can be acted upon in families and communities. They need to acquire the tools to break free from these situations. We need to empower people who are vulnerable and isolated to seek help in these circumstances."