 Jivan Mann hoping to do family proud in finals of Miss Nottingham 2012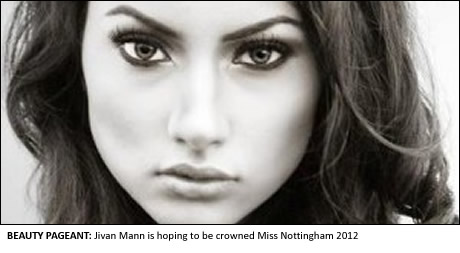 A MIDLAND student is hoping to prove beauty and brains are a winning combination as she bids to become Miss Nottingham 2012.
Jivan Mann is up against a host of other hopefuls this weekend in a battle to be crowned winner and grab a chance to compete in the grand finals of the coveted Miss England pageant in June.
The 19-year-old already has some modeling experience having appeared in the pages of successful Asian fashion magazines Asian Woman and Asiana.
But competing for Miss Nottingham 2012 will be an all together different challenge, and one the Psychology with Sociology student at Nottingham Trent University is relishing.
"Being a young Asian female it would mean the world for me to win a prestigious title such as Miss Nottingham, showing if I can do it any girl can," she told The Asian Today.
"It's so important to have a good role model in this day and age and that's what I strive to be. It's important to know beauty isn't just skin deep, a great personality will take you a long way.
"I would say that my experience as a part -time Asian model has given me the confidence to walk on the runway, however this is my first beauty pageant! So I'm all very new to this. It's a completely different environment and it's been an amazing experience!"
Should Jivan triumph this weekend she will get the chance to compete in the grand finals of Miss England. And it will be an opportunity Jivan hopes will allow her to be a role model for young Asian girls.
"If I have the honor of winning Miss Nottingham I will then go onto the Grand Finals of Miss England which will be held in June. I will continue to set a good example for young Asian girls across the UK and then hopefully go onto win Miss England, the world is your oyster so who knows!"
And she's grateful for the support of her family and friends as she realizes her beauty pageant dreams.
"My main goal out of this is to make my friends, community and family proud. My family are my rock and they have supported me throughout this whole process. Whatever it is, my degree, my modelling, no matter what they will support my dreams."
As part of her bid to be named Miss Nottingham 2012, Jivan is raising money for the Rainbows Charity. You can help by texting her code MISS NOTTS13 to 63333.
Text votes cost 50p plus standard network rate