 Former India International Bobby Rao announces retirement after 47 year career!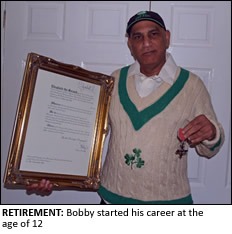 A CRICKETER who began his club career at the age of 12 has called time on a superb innings which lasted an incredible 47 years!
Former India and Ireland International Bobby Rao has announced his retirement as a player bringing to an end a career spanning 47 years that saw the all-rounder rise to the very top of his sport.

It is a tremendous testament to his fitness and hunger that Rao has kept going until just short of this 59th birthday – however a leg injury sustained in recent months has forced him to call time on a superb innings.

Rao began his club career in India at the ripe old age of 12 and progressed through the ranks very quickly. He made his test debut against the West Indies in 1978 and had the distinction of captaining his beloved Hyderabad to their one and only Ranji Trophy success in 1987. His love affair with Ireland had began in 1980 as Rao had answered Strabane's call to join them as overseas professional and he returned for the following six seasons as well, only taking the '87 summer off after the Indian Championship exertions.

Rao was also heavily involved in the formation of the Hyderabad Cricket Academy at that time and on 11 April 1987 he proudly opened the doors that were to be the beginnings of so many cricket careers including that of VVS Laxman.
He returned to Tyrone again in 1988 but this time to join neighbours Sion Mills, the start of a 14 year association with the village club. Sion were a major force during those years and the highlight for Bobby was their All-Ireland Cup run of 1992 which saw them lose narrowly to Waringstown in the decider at Rathmines. He was invited into the Ireland set-up in 1994 and pulled on the shamrock sweater six times, including that triple-crown winning campaign.

Bobby continued to return home to India every September and his final 1st class game was a Ranji Trophy semi-final against Bombay whose lineup included a 14-year old by the name of Sachin Tendulkar. He made his home in Ireland after that and marriage to Josephine and a family soon followed.
He left Sion in 2002 to return to Strabane for a couple of seasons before Billy Henderson took him to Eglinton where he stayed for a further 4 years. Bobby's last playing days were then spent at St Johnston but long before then his coaching prowess was being sought by all and sundry.

Announcing his retirement Bobby made it clear he still had a job to do in Irish cricket.
"I intend to make good use of my time now that I won't be playing anymore" he began.

"I have been appointed Director of the North West Coaching Committee and we have a really good team in place that can help us provide a solid coaching infrastructure here. I also intend to get around every club in the North West this summer and offer whatever help I can.

"As well as that my role is to provide one-to-one coaching for anyone who needs it and whether players are preparing to step up to International under-age or development squads, or even just simply out of form, I will make myself available to help".

"I have thoroughly enjoyed my time as a player and take away some unbelievable memories and to that end I would like to thank Strabane Cricket Club for bringing me here in the first place, and Sion Mills, Eglinton and St Johnston for helping me to want to keep playing."

Bobby was awarded the MBE in January 2011 for his services both to sport and in his role within the ethnic minority group and such is his standing in the game that he received congratulatory messages from the likes of Sunil Gavaskar, Azharuddin and of course Laxman.